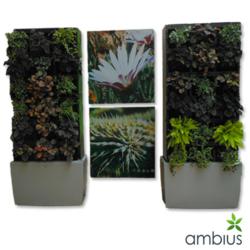 GreenWalls are ideal space dividers for open plan offices. They not only look fantastic, but reduce noise levels, improve indoor air quality and provide screening where required.
Cape Town, South Africa (PRWEB UK) 20 March 2013
There is a growing body of research which documents the health and wellness benefits of indoor plants; proving that interior plants are not only aesthetically pleasing, but also improve the health of colleagues in the workplace. In areas where large numbers of people breathe the same air, office workers are often exposed to high concentrations of Carbon dioxide. Office plants combat this phenomenon by absorbing carbon dioxide and releasing oxygen; quite literally breathing new life into enclosed spaces.
Carbon dioxide isn't the only problem. Volatile organic compounds (VOC's) – commonly found in a wide array of building materials and cleaning products – are the primary cause of both acute and chronic diseases including cancer and neurological failure. A study conducted by Dr B. C. Wolverton, of NASA, indicated that indoor plants can remove up to 87% of VOC's from an indoor environment over a 24 hour period.
Because plants also attract dust, they can reduce airborne particles by up to 20%, thus reducing the most common cause of headaches and asthma. Office plants also reduce noise levels in noisy workplaces by reducing and reflecting sound, and have been shown to improve workers' speed and accuracy and can even aid in fostering a sense of identity and loyalty. The presence of indoor plants has also been shown to generally improve colleagues' well-being, and reduce stress levels at work - resulting in happier, more productive employees.
The fact that plants therefore contribute to an environment which decreases illness-related absenteeism means that adding office plants to the workplace makes sounds business and financial sense.
And now Ambius, a division of Rentokil Initial, has gone a step further and designed a product that combines the benefits associated with indoor plants and traditional office screening. Jeff Ellis, Sales and Marketing Director at Rentokil Initial, says GreenWalls are ideal space dividers for open plan offices. These office plants not only look fantastic, but reduce noise levels and provide screening where required. "GreenWalls are extremely popular in the UK and the States and Ambius has had them on the market there for some time. Interest in GreenWall solutions has been steadily increasing in South Africa over the last 2 years, and we felt it was the perfect time to launch this product here," said Ellis.
The Ambius GreenWall system incorporates a base trough, an enclosed irrigation system and a frame structure made up of individual plant trays. The trays allow individual plants to be replaced easily if needed. The structure is offered in plain white, or with a range of cover options. Single units can be placed against a wall, or a larger green screen can be created by placing two GreenWalls side by side. These office plants can also be placed back-to back for a double-sided effect in the middle of an open-plan space. Foliage indoor plants can be planted in patterns to create additional interest.
The GreenWall is unique to Ambius, and is an environmentally-friendly addition to any interior space. It offers all the wellness and aesthetic advantages of indoor plants, coupled with low maintenance and minimal electricity usage. All water is also recycled inside the enclosed irrigation system.
About Rentokil-Initial: The Rentokil Initial group specialise in pest control, hygiene services and interior landscaping for businesses across the globe. As the leader in the interior plantscaping industry, Ambius has more than 30 years of experience in greening offices around the world. All of their products are designed to add to the aesthetic appeal of the workplace whilst improving the well-being of employees. Read more about Ambius' office plant solutions.