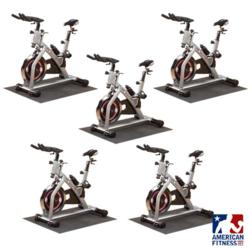 workout equipment packages make it easy for schools to obtain state-of-the-art equipment for their student athletes while staying on budget
Portland, Oregon (PRWEB) March 28, 2013
American Fitness has developed a series of new commercial exercise equipment packages to help schools outfit their weight rooms and gyms in preparation for the fall sports season. Whether training football teams or athletes in a multitude of other sports, these packages take the guesswork out of choosing quality workout equipment while staying within limited school budgets. The new packages include combinations of popular cardio exercise equipment, as well as plate-loaded leverage equipment and bumper plate packages for strength training.
Building winning teams involves a combination of sports training on the field plus strength and conditioning training in the gym. To develop stronger athletes, American Fitness has put together special packages of plate-loaded leverage equipment targeting the upper body, lower body, and full body. Plate-loaded machines combine the features of traditional weight machines with a wider range of motion, similar to what is achieved with free weights. With fixed pivot points and lifting paths, users are able to lift high amounts of weight with minimized risk of injury. American Fitness' upper body packages include equipment used to perform bench presses, rows, shoulder presses, and other upper body exercises. Lower body packages include equipment to perform leg curls, leg extensions, leg presses, and calf raises. Full body packages include a combination of both.
For teams following cross training or CrossFit programs, American Fitness has put together special bumper plate packages. Bumper plates are weight plates made with a steel core and very thick rubber. They are extremely durable and designed to cause minimal damage to floors or the plates themselves when dropped. Available packages include bumper plates only or a combination of plates with bars, collars, and storage.
To support conditioning off the field, American Fitness has developed new training or spin bike packages. Packages are available in different quantities of bikes to fit different sized gyms and budgets.
"As competition on the sports field increases, student athletes are being challenged to become stronger and faster," said Ron Thompson, President of American Fitness. "At the same time, many schools are facing tighter budgets with less money available for developing up-to-date training facilities. Our new workout equipment packages make it easy for schools to obtain state-of-the-art equipment for their student athletes while staying on budget."
All of the items in these new packages are commercial grade and designed to withstand repeated use by multiple users in a commercial or institutional environment. Because equipment of this quality is often custom order, American Fitness recommends that athletic departments order early to ensure delivery in time for fall practice sessions.
About American Fitness
American Fitness is a leading retailer of home and commercial fitness equipment. Headquartered in Portland, Oregon, AmericanFitness.net is the chosen provider of fitness and exercise equipment for schools, hotels, public service agencies, and US military organizations across the United States and abroad. American Fitness specializes in custom gym and fitness center design using top brand equipment including home gyms, treadmills, elliptical trainers, weights, and other popular exercise equipment. With a focus on service and customer satisfaction, American Fitness seeks to support individuals and organizations in achieving fit and healthy lifestyles. For more information, please visit the company's website at americanfitness.net.