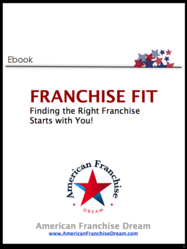 American Franchise Dream could revolutionize how prospective franchisees and franchisors come together.
State College, Pennsylvania (PRWEB) February 12, 2013
American Franchise Dream (TM) was created by a franchisee for prospective franchisees, providing educational articles, tips and tools on all things franchising - understanding, researching, evaluating, selecting and buying a franchise.
Anyone who has searched for a franchise business will tell you that it is like searching a never-ending maze, fraught with dead-ends and sales traps. The dead-ends that one must avoid are those franchisors focused solely on franchise sales as a money-making machine and ignore what is needed for the success of existing franchisees. The sales traps are laid by franchise developers and brokers whose only financial incentive is tied to a franchise sale, good fit or not.
American Franchise Dream's primary goal is to help prospective franchisees navigate the maze of franchise opportunities -- helping them to recognize the traps and dead-ends, while identifying the franchise opportunities that may be a good fit for them.
The "What is Franchising?" Infographic is a good example of the types of resources provided. Many individuals that start their franchise search do not fully understand the business model and the benefits to both the franchisee and the franchisor. This infographic provides a great overview of of franchising with some U.S. franchise statistics.
Another example is a 22 page free eBook titled: FRANCHISE FIT - Finding the Right Franchise Starts with You!
The Franchise Fit eBook emphasizes that to find a franchise that is a good fit, a person must first conduct a personal inventory, taking into account their skills, experiences, personality and goals. Starting a search for a franchise business before a person knows the type of business that would fit them best often leads to poor selection and ultimately business failure. A person can pick a successful franchise and still fail if it is not a good fit. That is why a personal inventory is critical before starting a franchise search.
Thanks for taking them time to read this press release. Please visit American Franchise Dream to explore what the company offers prospective franchisees and give us your feedback.
About:
American Franchise DreamTM (AFD) was created by a franchisee for prospective franchisees with the purpose of giving them "straight scoop" on franchising. It is the company's goal to educate those considering starting a business in all things franchising — understanding, researching, evaluating, selecting and buying a franchise.
While educating individuals who are seriously considering franchising as a business model, AFD strives to increase awareness around specific franchise opportunities. In doing so, we hope to help entrepreneurs and franchisors engage in a non-sales manner, helping both to achieve higher levels of success.  Today's smart franchisors know that success is no longer about selling franchises, it's about finding individuals that will make great strategic partners.
web: http://www.AmericanFranchiseDream.com
Twitter: @AmericanFD
Facebook: http://www.facebook.com/AmericanFranchise
Contact: inquiries(at)AmericanFranchiseDream(dot)com