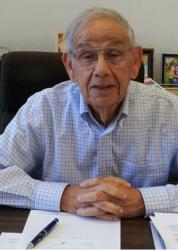 Dr. Salomon Levy's contributions to nuclear energy are tremendous and have benefited the nuclear science community and the nation as a whole.
LaGrange Park, IL (PRWEB) November 10, 2012
The American Nuclear Society (ANS) is honoring Salomon Levy, PhD, with a Presidential Citation in recognition of his 50 years of outstanding leadership in the design and safety analysis of nuclear reactor systems. ANS President Michael Corradini, PhD, will present Dr. Levy with the award during the Opening Plenary at the ANS Winter Conference and Technology Expo: "Future Nuclear Technologies: Resilience and Flexibility," being held November 11-15 in San Diego, California.
"Dr. Levy literally wrote the book on nuclear reactor systems design and safety analysis," remarked Corradini. "His contributions to nuclear energy are tremendous and have benefited the nuclear science community and the nation as a whole."
Levy played a central role in the original development of boiling water reactor technology at General Electric. Students studying reactor thermal hydraulics today are still taught about the Hench-Levy model for critical heat flux in Boiling Water Reactor fuel assemblies. Levy is the author of the 1998 book "Two Phase Flow in Complex Systems" -- the authoritative reference on the application of scaling and phenomena identification and ranking for reactor safety and thermal hydraulics assessments.
In 2000, Levy co-chaired with Neil Todreas, PhD, a Nuclear Energy Research Advisory Committee subcommittee that launched the Generation IV Roadmap effort, which provides a framework for international cooperation in research and development for advanced nuclear energy systems. Over the past decade, the Gen IV Forum has served as an incubator for new and advanced reactor designs. The 2012 ANS Winter Conference and Technology Expo will feature a celebration of the tenth anniversary of the Gen IV Forum.
Levy authored the book: 50 Years in Nuclear Power: A Retrospective [ISBN: 0-89448-573-3]. This book describes significant experiences over a period of 50 years in the field of nuclear power-generated electricity. The book opens with the development of light water reactors and continues the journey through Levy's formation of engineering/management firm.
Levy is a Fellow of the American Nuclear Society. He owns S. Levy and Associates, Inc., and resides in California.
The American Nuclear Society welcomes recognized media representatives to attend the ANS Winter Conference and Technology Expo. A full meeting program can be found online via the ANS website at http://www.ans.org/meetings/winter/. To register, please contact Laura Scheele at lscheele(at)ans(dot)org or via phone at (219) 381-8672. Registration includes access to plenary sessions, technical sessions and escorted access to the exhibit hall. Payment is required for access to any tours, ceremonies, or events for which additional fees are indicated.
Established in 1954, ANS is a professional organization of engineers and scientists devoted to the peaceful applications of nuclear science and technology. Its nearly 12,000 members come from diverse technical backgrounds covering the full range of engineering disciplines as well as the physical and biological sciences. They are advancing the application of these technologies to improve the lives of the world community through national and international enterprise within government, academia, research laboratories and private industry.