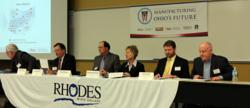 "Our greatest asset is the human capital we have"
~Steve Hatkevich, Director Research and Development at American Trim
Lima, OH (PRWEB) March 04, 2013
Steve Hatkevich, Director Research and Development, recently participated in two manufacturing related events held at Rhodes State College coinciding with Governor Kasich's visit to Lima for the State of the State Address.
The first event sponsored by the Ohio Department of Education and the Board of Regents centered on how internships and co-op positions help businesses and students. "We know at the board of regents that co-ops and internships are really critical for moving forward as a state," said Ohio Board of Regents Acting Chancellor Stephanie Davidson. Acting State Superintendent of Public Instruction Michael Sawyers noted how students see the career connection when able to have practical application of their classroom knowledge afforded through internships and co-ops. As a panelist, Steve Hatkevich stated that "our greatest asset is the human capital we have" and noted American Trim has programs for students from high school, two-year, four-year and advanced-degree programs.
The Manufacturing Forum was jointly hosted by the Ohio Department of Agriculture and Ohio Development Services Agency. The two-fold purpose of the forum was to provide a brief explanation of programs including the Manufacturing Extension Partnership and Energy Efficiency Program for Manufacturers, and an open discussion of how the agencies can assist businesses. Ohio Development Services Agency Director Christiane Schmenk stated, "You come to us with your project, we'll be your advocate to plug you into any relevant program that might help.'" Eric Burkland, President Ohio Manufacturing Association, remarked on the status of Ohio's manufacturing noting "What you've done in your companies and across Ohio is nothing short of astounding." Also attending were Norm Chagnon and Chad Smith, both from ODSA. Rhodes State College hosted both events.
About American Trim
American Trim specializes in the forming, decorating and coating of metal and composite materials. Supported by a strong focus on research and development, American Trim is dedicated to providing solutions for the most extreme environments, structural challenges or highly decorative needs.
For more information, please visit our website at http://www.amtrim.com.