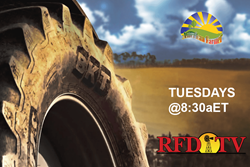 "As technology advances, equipment is becoming larger. As a result, the industry requires tires that can handle the changes and demands of modern farming."
JUPITER, Fla. (PRWEB) September 28, 2018
American Farmer is excited to announce that it will examine innovative smart tire practices in an upcoming episode, scheduled to broadcast 1QTR, 2019. American Farmer airs each Tuesday at 8:30aET on RFD-TV. Check your local listings for more information.
In this episode American Farmer will focus on BKT, a company dedicated to educating farmers and dealers on the importance of maintaining correct air pressures and its effects on crops and yields, along with tires and equipment.
Audiences will learn about the importance of buying and selling the correct tire sizes and load ranges to handle the capabilities and weight of the modern equipment demands.
"Our goal is to educate farmers, distributors, and dealers on the importance of purchasing the proper tires that work best for their crops, yields, and equipment. Farm machines are ever changing and BKT is dedicated to keeping up with the trends. We are excited to work with American Farmer to get this message across to their viewers," said Dave Paulk, Manager Field Technical Services for BKT.
"As technology advances, equipment is becoming larger. As a result, the industry requires tires that can handle the changes and demands of modern farming," said Jennifer Tierney, producer for the series. "BKT produces a very wide array of tires for load carrying capacities and speeds to handle this demand. We look forward to sharing this information with our viewers."
About BKT:
Balkrishna Industries Ltd. (BKT) is a tire producer headquartered in India. The BKT group offers a vast and modern range of Off-Highway tires, specially designed for vehicles operating in the farming, industrial, earth-moving, mining, port, ATV and gardening sectors. BKT's innovative solutions are designed for the needs of any type of user and comprise over 2,500 products sold in more than 160 countries around the world. For more information, visit: http://www.bkt-tires.com
About American Farmer:
American Farmer is a breakthrough program on a mission to showcase the latest advancements in agriculture and farming. From seed to harvest, livestock and more, our producers have traveled the country covering the people, places and issues impacting all areas of farm country.
American Farmer airs Tuesdays at 8:30am ET on RFD-TV. Check your local listing for show times.
For more information visit http://www.AmericanFarmerTV.com or call 866.496.4065.