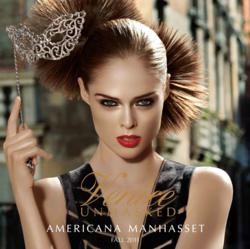 We envisioned a strong, mysterious and seductive woman with a confident style
Manhasset, NY (PRWEB) August 17, 2011
This month, Americana Manhasset debuts its dramatic 60-page Fall Fashion Book, shot entirely in Venice. Fall ready-to-wear, accessories and jewelry from the most luxurious brands in the world are captured in an exciting and high-style picture book which is direct-mailed to 130,000 targeted households. The images are also featured front and center on Americana's website, americanamanhasset.com.
In conjunction with the still images, Americana Manhasset has debuted on its website a 30-second cinematic short film, also entitled "Venice Unmasked," and a 3 minute Behind-the-Scenes video. Both are set to powerful music and epitomize the energy of the season.
The campaign, photographed, produced and styled by Laspata/DeCaro, stars top editorial models Coco Rocha and Sean O'Pry. It has a decidedly edgy sensibility, with Americana's intriguing couple moving stylishly and stealthily among the bridges and palazzos of Venice. Gondoliers transport them through dreamy canals and secretive men in gold masks appear curiously in the background.
"The powerful, sophisticated and diverse looks prevalent on the runways provided us with inspiration for Americana Manhasset's Fall Book," said Charles DeCaro. "We envisioned a strong, mysterious and seductive woman with a confident style; we chose different settings throughout Venice depending on each look, allowing the fashion and respective designers' messages to be the focus." From Chanel and Louis Vuitton to Tory Burch and Theory, each brand enjoys a unique image that also works as part of the whole.
Americana Manhasset is a premier collection of over 60 fine shops, including Prada, Gucci, Ralph Lauren, Cartier, Louis Vuitton, Hermès, Van Cleef & Arpels, Dior, Hirshleifers and more, all within a unique outdoor environment designed by renowned architect Peter Marino and landscape designer Oehme van Sweden. Americana Manhasset offers a complimentary Personal Shopping Service, a remarkable luxury fashion and gift resource. Located on Long Island's beautiful North Shore, Americana Manhasset is 20 miles from Manhattan and 50 miles from the Hamptons. For more information on Americana Manhasset, check out americanamanhasset.com, Americana Manhasset Blog and Americana Manhasset Facebook Page, and follow us on Twitter!
###