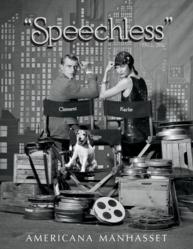 We shoot a unique and appropriate photograph for each brand, from Prada and Louis Vuitton to Tory Burch and Theory, but each image also works as part of the whole --Charles DeCaro
MANHASSET, LONG ISLAND (PRWEB) August 09, 2012
This month Americana Manhasset debuts its oversized, black-and-white 64-page Fall Book, "Speechless." Fall ready-to-wear, accessories and jewelry from the most luxurious brands in the world are captured in a high-style picture book starring top runway and editorial models Karlie Kloss and Clèment Chabernaud. And making his first appearance in a fashion campaign is Uggie, the dog who gained fame for his role in the Oscar winning film, "The Artist."
The book will be direct-mailed to 130,000 targeted households. The images will be featured in national and regional print ads in publications such as The New York Times, as well as in various digital media including Departures.com. The campaign will also be shown prominently throughout the fall/winter on Americana's website, americanamanhasset.com.
In conjunction with the still images, Americana Manhasset will debut a silent short film, also entitled "Speechless." The black-and-white piece is a fashionable homage to classic silent films of the early 1920's. It features Kloss as the movie star, Uggie as her constant companion, and Chabernaud as her would-be suiter, along with a cast of other classic characters. As well as appearing front and center on Americana's website, a 30-second version of the film will appear on New York City taxi televisions for five days during New York Fashion Week, guaranteed approximately 1 million views. Americana's Fall campaign also includes a 4-minute behind-the-scenes video,"The Making of 'Speechless,'" which gives viewers a fun, fast-paced, insider's glimpse into the photo and video shoot. The music and editing of this piece epitomize the 1920's vibe prevalent throughout the entire campaign.
The campaign was shot in Los Angeles at Paramount and KCET Studios, as well as Oviatt Penthouse and Cicada Restaurant, both famous for their genuine art deco details. Photographed, produced and styled by Laspata/DeCaro, the campaign has an authentic yet modern sensibility, with Americana's heroine dancing the Charlston, chatting with Charlie Chaplin on the back lot, and driving onto the set in her 1920's Cadillac.
"So many designers this season seem to be harkening back to the early 20th century in some way. We saw a lot of traditional materials such as cut velvet and lace, but combined in new ways. It was this sensibility that inspired us for Americana Manhasset's Fall campaign," said Charles DeCaro. "Once we decided on the silent movie theme, we ran with it in a fun and dramatic way. The styling and props all had to fit the theme, from the finger curl in Karlie's hair to the vintage movie lights. As always, while we put forth a strong editorial voice, it is the fashion and respective designers' messages that remain the focus. We shoot a unique and appropriate photograph for each brand, from Prada and Louis Vuitton to Tory Burch and Theory, but each image also works as part of the whole."
Americana Manhasset is a premier collection of over 60 fine shops, including Hermès, Prada, Louis Vuitton, Gucci, Ralph Lauren, Cartier, Ermenegildo Zegna, Van Cleef & Arpels, Dior, Hirshleifers, London Jewelers and more, all within a unique outdoor environment designed by renowned architect Peter Marino and landscape designer Oehme van Sweden. Americana Manhasset offers a complimentary Personal Shopping Service, a remarkable luxury fashion and gift resource. Located on Long Island's beautiful North Shore, Americana Manhasset is 20 miles from Manhattan and 50 miles from the Hamptons.
Additional and/or high-resolution images from the 2012 Fall Book are available upon request.