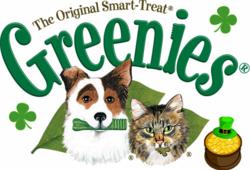 Greenies are an excellent option for home dental care for our pets.
Pompano Beach, FL (PRWEB) March 14, 2013
American Diabetes Wholesale has launched a Greenies® promotion to last through the weekend of St. Patrick's Day.
During this four-day promotion, which runs from March 14-17, customers can save 17% off all Greenies® products available at http://www.americandiabeteswholesale.com. The sale pricing has already been adjusted so no coupon codes are required for this sale event.
Dr. Joi Sutton, DVM and advisor of ADW's Veterinary division says, 'Greenies® are an excellent option for home dental care for our pets. Dental care is particularly important for our diabetic pet patients as oral infection adds to insulin resistance.'
All Greenies® products are eligible for this promotion – from their famous pill pockets to their dental and joint-care treats and their new feline SmartBites treats. American Diabetes Wholesale also offers Greenies® as part of their AutoShip program; allowing for pet owners to regularly schedule the delivery of their needed supplies based on their usage. Customers that sign up for AutoShip with their Greenies® purchases will save an additional 5% on each of their scheduled orders.
American Diabetes Wholesale offers free shipping on all orders over $100.00. Orders must have a shipping address in the continental United States to quality for the free shipping offer.
About American Diabetes Wholesale:
American Diabetes Wholesale® (ADW) veterinary division is committed to the health and wellness of our pet customers by "Keeping Pet Diabetes Management Affordable". ADW offers a large selection of quality specialized pet care products, while also providing fast service, giving superior customer service every time, supporting the pet diabetes community, and providing helpful diabetes education and information for pet owners.
About The Greenies® Brand:
Created in 1998, Greenies® dental chews revolutionized the dental chew category with their famous green, toothbrush shape. Today, Greenies® dental chews are the U.S. leader in pet dental chews. The GREENIES® brand is committed to the cause of dental care and believes the healthier a pet's teeth, the healthier the pet can be. The brand also offers GREENIES® PILL POCKETS® treats, nutritious treats that contain a built-in pouch, perfect for hiding a tablet, capsule or supplement, and GREENIES® JointCare Canine treats designed to help protect joint mobility by providing essential nutrients for healthy joints. The GREENIES® brands are a part of The Nutro Company, a leading manufacturer of natural pet food products sold exclusively at pet specialty stores. For more information, please visit http://www.greenies.com.