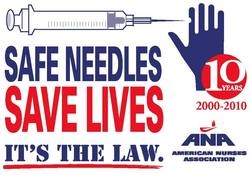 ANA conducted a survey in 2008 that found that 64 percent of nurses reported being accidentally stuck by a needle at work. Even though much progress has been made, too many health care professionals are still at risk of a needlestick injury
Washington, DC (Vocus) November 4, 2010
Ten years ago, Congress passed the Needlestick Safety and Prevention Act, legislation aimed at protecting nurses and other health care professionals from being injured by needles and other sharp objects that can carry bloodborne infections. A November 4th briefing hosted by the American Nurses Association (ANA) examined the efficacy of that legislation and what more needs to be done to safeguard the lives and health of the nation's nurses and health care workers.
"ANA conducted a survey in 2008 that found that 64 percent of nurses reported being accidentally stuck by a needle at work. Even though much progress has been made, too many health care professionals are still at risk of a needlestick injury," stated Karen Daley, president of ANA. "A decade ago, ANA was instrumental in driving reform on needlestick safety, and on the 10th anniversary of the Needlestick Safety and Prevention Act, we are renewing our commitment to save lives through safe needles."
The briefing formally introduced Karen Daley, PhD, MPH, RN, FAAN, the new president of the ANA, who played a critical role in the Act's passage. Twelve years ago, Daley was working in a hospital emergency department and was accidentally stuck by a used needle. Consequently, she was infected with both the hepatitis C and HIV viruses. Since then, she has been one of the nation's most vocal advocates for improvements in the safety of health care work environments.
Daley, along with ANA CEO Marla Weston, PhD, RN, led a discussion with panelists about changes that are still needed to prevent injuries. For example, nurses in some workplace settings lack access to safety devices and some employers fail to include frontline nurses in device selection (as required). In addition, better reporting and tracking of injuries and stepped up enforcement by the Occupational Safety and Health Administration would help target efforts for needed improvements. Panelists also stressed the importance of making sure workers report their injuries and that timely post-exposure prophylaxis takes place.
"Nurses do not believe their work environment is as safe as it should be," said Daley. "There are a number of steps that employers can take to make the workplace safer, and we encourage nurses and employers to work together to instill a culture of safety that emphasizes prevention of injuries as a priority."
To mark the 10th anniversary of the enactment of the law, ANA re-launched its Safe Needles Save Lives campaign to educate nurses about the law and what they can do to prevent needlesticks and other sharps injuries. A number of materials are available at http://www.needlestick.org.
Other panelists included: Jordan Barab, Deputy Assistant Secretary of Labor for Occupational Safety and Health; Mary Ogg, MSN, RN, CNOR, PeriOperative Nursing Specialist, Association of PeriOperative Registered Nurses; AnnMarie Papa, DNP, RN, CEN, NE-BC, FAEN, President-Elect, Emergency Nurses Association; Annie Lewis O'Connor, NP, MPH, PhD, former Emergency Department Nurse; Susan A. Dolan, MS, RN, CIC, Chair, Public Policy Committee, Association for Professionals in Infection Control and Epidemiology, Inc.; Angela Laramie, MPH, Project Coordinator, Massachusetts Sharps Injury Surveillance Program, Massachusetts Department of Public Health; and Marla J. Weston, PhD, RN, Chief Executive Officer, American Nurses Association who moderated the session.
The American Nurses Association (ANA) is the only full-service professional organization representing the interests of the nation's 3.1 million registered nurses through its constituent member nurses associations, its organizational affiliates, and its workforce advocacy affiliate, the Center for American Nurses. The ANA advances the nursing profession by fostering high standards of nursing practice, promoting the rights of nurses in the workplace, projecting a positive and realistic view of nursing, and by lobbying the Congress and regulatory agencies on health care issues affecting nurses and the public.
###