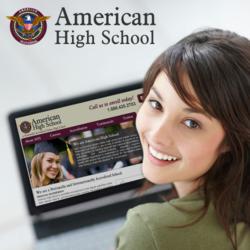 Online middle and high school moves to iPad's at American High School.
Hollywood, Florida (PRWEB) September 29, 2012
It's back to school time, and online middle schools and high schools are booming. Each year over 1.5 million K-12 students take a course online, and this year over a quarter of a million students will take their classes entirely online. While 2011 saw a number of innovations in the education space for tablets, such as major publisher textbooks and related instructional content starting to migrate to the platform, full school programs have largely been absent. This may seem surprising given the explosion in growth these devices have seen in recent years, but there are a number of reasons for it. The most common is Apple's ongoing and steadfast refusal to support Flash videos on its popular iPhone and iPad platforms. Unfortunately, Flash and related video formats are among the most common used in K-12 education.
One online content provider that didn't bet the farm on Flash was Hollywood, Florida based American High School, an international leader in online 6th to 12th grade education. The school has released its Android and iPad enabled learning platform just in time for the fall semester, and is also rolling it out as the default learning platform for all of its hybrid 'online-in-person' public charter schools in Florida. The platform allows students with an Android or iPad tablet to use the device for their entire middle school or high school learning experience, in addition to traditional web based learning.
"When I started my online middle and high school almost 10 years ago most people had difficulty imagining an online school," Mira Riley, president of American High School said. "These days over 40 states have them, with 30 having full time online schools. Today's young people have moved from computers to laptops to tablets and we need to make sure we are meeting them where they are at. At American High School our entire school is now in their tablet. It will make a huge difference in our student's lives."
Once the domain of traveling athletes and actors, or troubled kids who were kicked out of school or needing to retake classes they failed; the profile of today's online middle school and high school student is the same as any other. Over 90% of online students access their classes at their traditional school, with just over 70% access them from home.
Given their love of all things technological and convenient, it's not surprising that current teens are already highly invested in the tablet market. Recent research from Piper Jaffray suggests that 34% of them already own a tablet, mostly iPads. Another 19% planned to purchase one before the end of 2012. Riley's continued foresight may pay off. For a school like American High School, these numbers represent a sizable opportunity. Just as these young consumers have shifted their communication patterns from email to instant messaging to Facebook, they are increasingly shifting away from their laptops to tablets.
The growing amount of tablet-friendly content available from traditional publishers mean schools like Riley's should have no shortage of available world class materials to use with their students. With full time online high school students growing by 25% per year demand in the space is booming. Riley says her school is mirroring this national trend, with enrollments up significantly over the previous year.