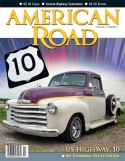 Detroit, Michigan (PRWEB) January 17, 2013
With the current edition, American Road gives one last toot to ten years in print. Inside, readers will find features that present the best of dramatic scenes. "US Highway 10" is the largest feature American Road has ever published—it's a guide to the 710-mile trip from Midland, Michigan, to West Fargo, North Dakota. US 10 became renown as The Far West Road to Travel. It retains its great fame thanks—in part—to a squiggly star of yesteryear: Herman the Worm.
In its examination of even-steven postcards, "Ten Sense" plays post office. From the Number Ten Trial Gardens of Shenandoah, Iowa; to Robin Hood's Ten Acres in Wayland, Massachusetts; and the Valley of the Ten Peaks that crowns Banff National Park of Alberta, American Road looks at vintage postcards that scored big by invoking a big One-O.
Finally, in this issue, "Take Ten!" will reveal the winners of our ten-themed photo contest, which had invited readers to celebrate American Road's tenth anniversary. All the participants should take a bow.
What's New
American Road recently unveiled a new digital edition; a new iTunes app for the iPad; and a new mobile site optimized for iPhones, Androids, and other Smartphone devices.
Improvements to americanroadmagazine.com enable better navigation and provide the visitor with tools that make it easier to locate that roadside attraction or vintage motel, or to discover that hidden landmark and make new memories on the road less traveled. Readers will find sponsored downloadable trip itineraries that make travel planning a breeze, as well as the American Road Forums—the ultimate road trip community.
American Road is an award-winning periodical published quarterly by Mock Turtle Press, distributed internationally by Disticor, and now available at newsstands and fine bookstores.