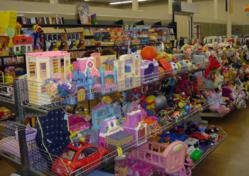 We love knowing that our retail business is part of the solution when it comes to answering the call to lessen the burden on our landfills and protect our environment," said Wendy Steinmetz, Vice President Norquist Salvage Corporation
Roseville, CA (PRWEB) November 15, 2011
The United States is the number one trash producing country in the world generating around 1,600 pounds of trash per person every year according to the IL Recycling Association. In other words, that's five percent of the population generating 40% of the world's waste. With stats like that, America may need more than just one nationally recognized recycling day. However, at Thrift Town, America Recycles Day, is top of mind and observed each and every day.
Thrift Town, which is owned and operated by Norquist Salvage Corporation, has spent nearly four decades dedicated to socially responsible recycling, and is committed to making a difference locally every day. By purchasing goods through their charity partner's household recycling programs, not only has Thrift Town raised nearly $85 million dollars for their local charity partners; but annually, Thrift Town keeps over 16 million pounds of product out of area landfills. That breaks down to 45,000 pounds every day!
Thrift Town is conscious of the fact that out of every $10 spent on a product, $1 of that covers packaging costs. Thrift Town uses reusable carts to collect, sort, and distribute items. In fact, Thrift Town uses those reusable carts to put out 4,000 recycled products to each of their 15 store floors daily validating the fact that what one person's trash is another person's treasure. "All of us at Thrift Town take great pride in knowing that our commitment to socially responsible recycling absolutely makes a difference every day! Recycling usable household items and clothing has been a big part of our family business model for nearly four decades. We love knowing that our retail business is part of the solution when it comes to answering the call to lessen the burden on our landfills and protect our environment," said Wendy Steinmetz-Vice President
With the help of organizations like America Recycles Day getting the message of Reduce, Reuse, Recycle out to the public, American's can start chipping away at stats like the one at the top of this release. If you are interested in making a difference in your community, and would like to recycle your household products, we encourage you to visit Thrift Town's donation page to see how easy it is to donate.
Thrift Town has store locations in four western states, and is open seven days a week. Their award winning clean, bright, and organized stores set them apart in the thrift world as the premier thrift destination.
###