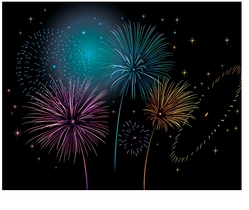 We want people to enjoy the festivities surrounding the holiday, but we also remind people to be safe
Lincoln, RI (Vocus) July 1, 2010
Fireworks will be exploding across the country this holiday weekend, especially now that most states allow individuals to buy and use consumer fireworks.
Rhode Island recently became one of 46 states that allows consumers to buy and/or use some types of fireworks. However, the Consumer Products Safety Commission reminds us that all fireworks are dangerous, resulting in several deaths and thousands of injuries each year.
According to CPSC statistics, seven people died and more than 7,000 required hospital treatment for fireworks-related injuries in 2008 alone. Most of those injuries were burns or eye injuries. The CPSC further noted that about 70 percent of those injuries occurred between June 20 and July 20.
That's why Amica joins fire and safety officials in encouraging people to be careful when using or viewing fireworks during the upcoming Fourth of July holiday weekend.
"We want people to enjoy the festivities surrounding the holiday, but we also remind people to be safe," said Robert DiMuccio, chairman, president and CEO of Amica Insurance.
Amica shares the following tips for safely using fireworks:

Obey local laws. If fireworks aren't legal where you live, don't use them.
Use fireworks with adult supervision.
Don't let children use fireworks, including sparklers, which can reach temperatures of 1,200 degrees Farenheit when lit.
Read and follow all warnings and instructions. Use only as intended.
Use fireworks outdoors only, in a clear, open area, away from dry leaves and other flammable materials.
Spectators should be a safe distance from the fireworks when they're being ignited
Make sure you have water nearby when using fireworks. Keep a hose or bucket of water handy.
Dispose of fireworks safely. Soak them in water and dispose of them in a trashcan.
About Amica
Amica Mutual Insurance Company, the nation's oldest mutual insurer of automobiles, was founded in
1907. The company, with corporate headquarters in Lincoln, RI, is a national writer of automobile, homeowners, marine, and personal umbrella liability insurance. Life coverage is available through Amica
Life Insurance Company, a wholly owned subsidiary. Amica employs more than 3,200 people in 40 offices across the country.
CONTACT: Vince Burks , Corporate Communications, 50 Amica Way, Lincoln, RI 02865-1155, 800-652-6422, ext. 24563
Web site: Amica.com.
Twitter: Amica Insurance
Facebook: Amica Mutual Insurance Co.
external documents.
###