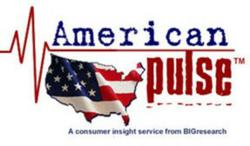 More Citizens are Mad at Congress than at Corporate America.
Worthington, OH (PRWEB) October 17, 2011
Just over half of Americans (53.2%) are aware of the Occupy Wall Street protests in New York and other major cities, according to the latest [American Pulse™ Survey of 6,043 respondents. 51.5% of those familiar with the Occupy Wall Street movement say they somewhat or completely support the protest. However, only 1 in 5 (19.8%) of those familiar say they are somewhat or very likely to join the movement. Among all Adults 18+, only 12.5% say they are likely to join while 26.5% would need more information about what the group stands for.
While half of those aware of Occupy Wall Street support the group in general, a majority of Americans don't agree with several of the unofficial demands infiltrating the Internet. Most Adults 18+ (64.7%) do agree with equal rights for all races and genders, while just under half (44.3%) would support a universal healthcare system. However, other unofficial requests are only supported by a minority:
Somewhat/Strongly Agree with Unofficial Demands of Occupy Wall Street: (Adults 18+)
Racial and gender equal rights amendment: 64.7%
Universal healthcare system: 44.3%
Forgive college loan debt: 38.2%
Guaranteed wage, regardless of employment: 36.9%
Outlaw credit reporting agencies: 34.0%
Debt forgiveness for all: 31.8%
Spending $1 trillion on infrastructure: 27.5%
Open borders migration: 12.5%
Source: American Pulse™ Survey, October-2011
About a third of Americans agree with forgiving debt, especially college loan debt, and 36.9% think a guaranteed wage (even for those out of work) sounds appealing. However, out of these unofficial demands, opening up U.S. borders to anyone is not likely to gain majority support.
For a full, complimentary report, including political party segments, click here.
While the Occupy Wall Street movement is protesting Corporate America, American citizens are most mad at Congress: 74.5% admit they are mad at the House and Senate. Fewer (57.1%) say they are mad at Corporate America, and at 52.6%, President Obama isn't far behind.
Other Key Findings among Americans:

Compared to four years ago, over half (56.8%) say they are worse off. 26.5% feel the same while fewer than 1 in 5 (16.7%) is better off. Further, the majority (85.7%) doesn't think the economy has stabilized in the past four years.
86.0% think requiring a government-issued photo ID at polling sites is a good way to reduce voter fraud while 14.0% think it is an infringement on Americans' right to privacy. 95.1% say they have such an ID, and most (64.4%) don't think new voting laws requiring IDs would discourage eligible voters.
Only 3 in 10 (30.0%) are aware of the "Fast and Furious" gun scandal. However, 8 in 10 (80.1%) don't think giving guns to drug cartels in order to track them is a good idea.
Most (55.9%) would not support a "fat tax" like Denmark's that would place higher taxes on foods with a substantial amount of saturated fat. The majority (58.6%) say a tax like this infringes on freedom of choice and personal preferences, but nearly half (49.7%) say it would encourage healthier food choices.
American Pulse™
The American Pulse™ Survey is collected online twice a month exclusively utilizing SSI's U.S. panel covering topics such as politics, pop culture and the economy. 6,043 respondents participated in the 1st October American Pulse conducted 10/10-10/12/2011. Margin of error is +/- 1.3%. http://www.biginsight.com
Survey Sampling International (SSI)
Bringing together Survey Sampling International and Opinionology, SSI is the premier global provider of world-leading sampling, data collection and data analytic solutions for survey research. SSI reaches respondents in 72 countries via Internet, telephone, mobile/wireless and mixed access offerings. Value-add services include questionnaire design consultation, programming and hosting, data processing and real-time reporting. SSI serves more than 2,000 clients, including the top 50 research organizations. It has 30 offices serving clients around the world.
BIGinsight™
Chrissy Wissinger
chrissy(at)biginsight(dot)com
Randi Honkonen
randi(dot)biginsight(dot)com
614.846.0146
SSI
Ilene Siegalovsky
Ilene_Siegalovsky(at)surveysampling(dot)com
###