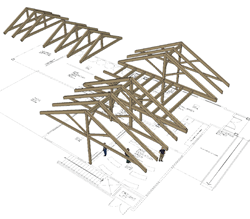 Raising a timber frame is an important and exciting event–it offers a chance to witness the culmination of months of planning, dreaming, and the detailed effort of an age-old craft.
FARMINGTON, N.Y. (PRWEB) October 24, 2018
New Energy Works will be raising the frame for Sannino Vineyard's new winery and tasting room at 15975 Rte. 48 in Cutchogue, New York on October 30, 2018. The community is invited to attend this traditional raising event. Anthony Sannino, co-owner of Sannino Vineyard, said that, "Seeing the timbers go up is the closest thing to an old-fashioned barn raising we'll see in the modern world. Friends of the winery, who have been anticipating the new building for several months, will finally be able to see the shape of our new facility. We're especially proud to be partnering with New Energy Works, one of the foremost firms in the production and fabrication of building timber."
"We're excited to raise the frame for Sannino Vineyard," said Eric Fraser, General Manager of Timber Framing at New Energy Works. "Raising a timber frame is an important and exciting event–it offers a chance to witness the culmination of months of planning, dreaming, and the detailed effort of an age-old craft where the bones of the project come together."
Douglas fir timbers will be joined using traditional mortise and tenons, secured with hardwood pegs. The same timber frame artisans who crafted the frame in the New Energy Works shop will be on-site to raise it, preassembling first thing, driving the wooden pegs, and employing use of a crane for the heaviest lifts.
The timbers are only one element of what is planned to be one of the most energy-efficient wineries built in the northeastern United States. The building will also feature insulated concrete forms (ICFs) supplied by NY PolySteel of Amityville, New York, for the foundation walls and main floor decking, and structural insulated panels (SIPs), supplied by Branch River Plastics of Smithfield, Rhode Island, for the walls and the roof of the winery.
Mr. Sannino explained that "these combined technologies will allow for maximum efficiency in cooling and heating. This goes hand-in-hand with the philosophy of sustainability that has been a hallmark of Sannino Vineyard ever since we first opened for business. This has always been the way we have farmed our vineyards, and we wanted our new building to reflect that same ethos." Mr. Sannino, who has owned and operated Style Contracting for thirty years, is particularly pleased that the new project has given him the opportunity to combine his decades of experience in design and construction.
Co-owner Lisa Sannino, who manages the business affairs of the winery, pointed out that the new facility will enable Sannino Vineyard to enhance its unique emphasis on hospitality, customer service, and wine education. "We'll not only have more square footage, but the new building will be customized so that we can offer our guests the highest quality experience. We'll have more space in our tasting bar, and a room dedicated to our Wine Club members and for classes that will enable patrons to learn more about the world of wine and our special North Fork Wine Region. This is the logical next step for us as we develop a customer experience that will be second to none. From the start, we've been aiming to create a Long Island version of the agriturismo that's so popular in Europe, and has become increasingly prominent in the US wine industry as well. The winery and tasting room will be connected with our home vineyard and the Sannino Vineyard Bed and Breakfast, so our guests can stay on a fully-integrated, working farm."
Anthony Sannino added that the new building will allow the winery to gradually increase production. "We may have a slight increase in the number of cases we produce, but we will always be an artisanal vineyard. We want our new home to have the same warmth and generous spirit that's always been at the heart of our winery. It's going to enable us to introduce even more people to our way of life. That's why we started Sannino Vineyards, and why it's been so fulfilling for us to see it grow.
New Energy Works designs and builds environmentally responsible timber frames across the USA from their New York and Oregon facilities. The company offers Timber Framing (design, engineering, manufacturing, build), Enclosure Systems, Fine Woodworking, Recycled and Sustainable wood products. New Energy Works has LEED AP staff members, is a member of the US Green Building Council, and is FSC Certified.