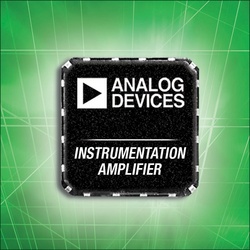 NORWOOD, Mass. (PRWEB) December 10, 2008
The AD8295 in amp delivers the highest common-mode rejection (CMR) over frequency in its class. The CMR of competing devices typically falls off at 200 Hz, while the AD8295 maintains a minimum CMR of 80 dB to 8 kHz for all grades at G = 1. High CMR over frequency allows the AD8295 to reject wideband interference and line harmonics, greatly simplifying filter design. The on-board in amp is gain-programmable and uses a single resistor to set the gain from 1 to 1000, delivering 1 ppm/°C maximum gain drift (B grade), 8 nV/√Hz maximum input voltage noise at 1 kHz, and 0.25-μV p-p input noise (0.1 Hz to 10 Hz).
The AD8295 operates on both single and dual supplies and is well suited for applications where ±10-V input voltages are encountered. The entire chip (in amp and two op amps) uses only 2 mA of total current, allowing for more channel density and lower cost designs. The AD8295 components are arranged in a logical way so that typical application circuits, such as a differential ADC driver or an in amp with output filtering, have short routes and few vias. Unlike most chip-scale packages, the AD8295 does not have an exposed metal pad on the back of the part, freeing additional space for routing and vias.
Availability and Pricing
Product     Availability     Temperature Range     Price Each Per 1,000     Packaging AD8295     December 2008     –40°C to +85°C     $2.89     16-lead LFCSP For more information, visit http://www.analog.com/pr/AD8295. For product information on amplifiers, visit http://www.analog.com/en/amplifiers-and-comparators/products/index.html.
About Analog Devices
Innovation, performance, and excellence are the cultural pillars on which Analog Devices has built one of the longest standing, highest growth companies within the technology sector. Acknowledged industry-wide as the world leader in data conversion and signal conditioning technology, Analog Devices serves over 60,000 customers, representing virtually all types of electronic equipment. Celebrating over 40 years as a leading global manufacturer of high-performance integrated circuits used in analog and digital signal processing applications, Analog Devices is headquartered in Norwood, Massachusetts, with design and manufacturing facilities throughout the world. Analog Devices' common stock is listed on the New York Stock Exchange under the ticker "ADI" and is included in the S&P 500 Index. http://www.analog.com
For more information on ADI's most recent product releases, visit our Press Release home page.
MULTIMEDIA GALLERY http://www.businesswire.com/cgi-bin/mmg.cgi?eid=5849489