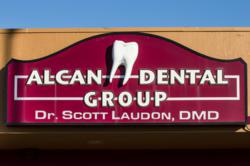 Through social media we hope to connect with our new and old patients on a better level
Anchorage, AK (PRWEB) March 27, 2013
Dr. Scott Laudon and the Alcan Dental Group has launched a new Google+ page for their practice. The Anchorage, Alaska dental office has provided dental services to its local area since 1992. As a brand-new opportunity to build patient and community connections, they have created a modern social networking page, to allow others to connect with them.
Through this service, existing and new clients have the option to post reviews of services received through the Anchorage dentist, Dr. Laudon and his associates at the Alcan Dental Group. These options allow potential clients to discover the stellar work provided by this exceptional dentist through patient reviews and discussions. By joining the practice's circle of friends, users have access to these reviews and more. "Through social media we hope to connect with our new and old patients on a better level," says Dr. Laudon.
Who Is Alcan Dental Group?
This dental group began as the brainchild of Dr. Laudon and opened its doors in 1992 to provide specialized dental care to the residents of Anchorage. They provide services that range from general dentistry to cosmetic options to emergency services in order to create luminous smiles.
The practice is a family-oriented office, and services are provided for family members of all ages. Dr. Laudon and his associates ensure quality service every time. They provide educational services to families to secure healthy teeth and gums throughout their lifetime.
Additionally, Dr. Laudon provides emergency dental services for the residents of Anchorage, AK. These services are available by contacting the Alcan Dental Group directly. They include fillings, dentures, and extractions. This skilled team of professionals takes the care of each dental patient seriously and offers these extra services as they know emergencies often occur in families.
Google+ Extras
Anchorage community members and patients with a Google+ page, gain access to blogs and other publications found on the Alcan Dental Group's page. These include reviews of past patients and other educational postings from Dr. Laudon and his staff. These online services help the community overall by providing insight into the dental needs and methods used to maintain healthy smiles. Those who follow Alcan Dental Group will also gain access to exclusive deals and promotions that will be offered on their Google+ page.
Access to Services
The new Google+ page for Alcan Dental Group allows patients to access services provided by Dr. Scott Laudon and associates. These options allow them to schedule appointments, evaluate potential dental needs, and to direct questions toward the dentist and his assistants. The social networking services allow forwarding of information between the dentist and his patients as well as other professionals when additional information is needed. It also allows other professionals to provide more data on new dental trends and procedures.
About Alcan Dental Group:
Dr. Scott Laudon and Alcan Dental Group welcomes walk-ins, but appointments are preferred. Alcan Dental Group specializes in cosmetic dentistry, emergencies and dentures. The family oriented and caring staff will help ease any stress patients may have with going to the dentist.
Patients have several options in contacting their office include their new Google+ page. You may contact them by phone at (907) 562-4774. Alternatively, you may complete the "Contact Us" form found on their website at AlcanDentalAnchorage.com. Schedule your appointment or consultation today with this leading Anchorage dental group!
Contact:
Alcan Dental Group
2819 Dawson Street
Anchorage, AK 99503
(907) 562-4774
Website: http://www.alcandentalanchorage.com/