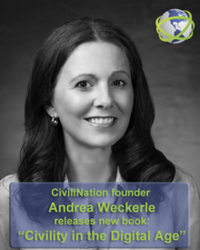 In Chapter 7 titled "Digital Literacy in a Hyperconnected World", Andrea stresses the crucial need for functional aptitude in what she calls "digital literacy", she artfully reduces this complex issue.
San Jose, CA (PRWEB) March 01, 2013
With just over twenty years since the advent of the Internet, Rexxfield founder Michael Roberts said "the Web still reflects much of the old Wild West and its anything goes mentality. Notwithstanding, freedom of speech is a fundamental human right and must be protected, but we need to add social accountability and responsibility to the mix".
"Civility in the Digital Age: How Companies and People Can Triumph over Haters, Trolls, Bullies and Other Jerks" is published by Que Publishing and, said Roberts, "I had the pleasure and privilege of an early preview just prior to its release in Paperback & Kindle Editions."
In describing Andrea Weckerle's new book, Roberts said: " 'Civility in the Digital Age: How Companies & People Can Triumph over Haters, Trolls, Bullies & Other Jerks' lays out, in often shocking detail, the depth of online hostility and reputational attacks against organizations and individuals. But rather than just describe the problem, Weckerle provides real-world solutions for how to turn the present online culture into a more embracing environment that gives everyone a voice".
"Andrea's ability to grasp and communicate the complexities & dynamics of digital and analog public discourse, technology, ethics and issues of the human heart are evidenced by the pages of this passionate work," said Roberts.
Among other things, Weckerle stresses the crucial need for functional aptitude in what she calls digital literacy. Roberts singled out a quote for the book and said "she artfully reduces this complex issue as follows: '…digital literacy is important because of the vast amount of information available online. It's difficult to sift through it without having established some sort of system for separating the qualitative from the quantitative, the valuable from the unimportant, the accurate from the inaccurate, and the emotionally manipulative from the rational. In other words, digital literacy requires strong critical-thinking skills'."
According to Roberts, "Andrea's constant reinforcement of the need for strong critical thinking skills and self-control is a touchstone for me. As a professional cyber-investigator, I find myself regularly amazed by the plethora of personal quandaries that people online regularly find themselves. These problems are caused by poor impulse control and what seems to be an inherent inability to recognize fallacious arguments and other red flags that permeate the online world." "But fear not," he added, "Andrea Weckerle has just published the antidote."
Andrea Weckerle founded and leads CiviliNation, a 501(c)(3) non-profit charity organization dedicated to reducing online hostility and character assassination. She previously worked at the Legal Management Services division of a global professional services firm, helping to design, develop, and implement comprehensive
alternative dispute resolution systems for Fortune® 500 firms. She also underwent extensive mediation training, earning certificates in Commercial Mediation and Conflict Resolution Processes. In addition to a law degree, Ms. Weckerle holds an MA in Public Relations/Conflict Analysis and Resolution.
Michael Roberts is a licensed private investigator and Internet libel victims' advocate and a member of the Civilination Board of Advisers. He assists victims of fallacious internet smear campaigns by bullies or competitors engaging in tortuous interference. He recently launched an Internet Defamation victims support and action group. Michael also provides background support for law enforcement internationally and investigative journalists pursuing stories that involve social networking and Internet related investigations.