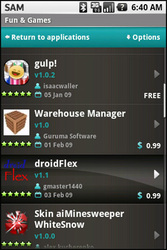 We are pleased to be offering SAM 2.3, the first and only Android mobile client that supports the purchase of applications in this exciting market
Seattle, WA (PRWEB) February 12, 2009
SlideME, an industry pioneer in Android application content delivery, has announced support for mobile payments through its SlideME Marketplace. With the release of SAM 2.3, the SlideME Application Manager, developers from any country can sell their Android applications directly to users worldwide via SlideCollect. This also now includes those paying through Amazon Payments accounts.
"We are pleased to be offering SAM 2.3, the first and only Android mobile client that supports the purchase of applications in this exciting market," says Shane Isbell, co-founder of SlideME LLC. "Payouts to developers are as high as 98 percent, much more favorable to the developer than any other Android market. There are also no country restrictions on application purchases. Anyone can buy or sell. This gives the SlideME Marketplace a truly global reach."
SlideME focuses on delivering a safe, enjoyable Android application shopping experience on mobile devices. Shoppers do not need to enter credit card details or any other sensitive information using their handset. The "Shopper Guarantee" ensures them that they will receive their digital downloads via SAM or their money back. To prevent fraud and reduce chargebacks, SlideME is also now partnered with Retail Decisions, a world leader in credit card fraud prevention.
About SlideME LLC
SlideME LLC offer products, services and experience that help promote small Android developers and their creative efforts, without locking them into closed standards. The SlideME community is focused on addressing and helping developers gain quality assurance and financial rewards in the multi-billion dollar mobile content industry. SlideME LLC was founded in 2008 and is headquartered in Seattle, Washington.
###