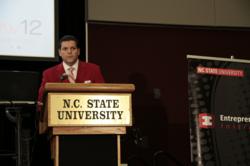 You are helping in a way that magnifies your investment, your ROI, what you get for what you put into it – your time, energy, effort, expertise or your money
(PRWEB) November 15, 2012
National Agents Alliance President and CEO Andy Albright helped officially kick off the Triangle Entrepreneurship Week during the Entrepreneurship Lecture Series at the McKimmon Center on the campus of North Carolina State University on Monday afternoon.
Albright spoke to more than 200 in attendance about why he strongly supports N.C. State's Entrepreneurship Initiative. Albright, a 1986 graduate of N.C. State, said the EI offers bright, young minds hope that they can achieve their goals and dreams. He said that kind of spark could lead to the next great innovation in the world.
"People with hope will sacrifice more," Albright said. "People that think they are going to win will give more. Men and women were made to work. Shockingly, we were not made to sit on this earth, eat Bon Bons and be fanned by a big tree limb. It sounds good at first, but you get all fat and your teeth rot. It's a mess. We are made to run. The EI gives kids a chance to have that spark and that hope that gets them to start. I saw it last week and I see it today, every day I see it when I'm around the EI. If my dollar bill, my little bit of money helps I hope I can give more and more."
A panel of guest speakers included: Grant Williard, founder of JouleBug; Jesse Lipson, VP, GM of Data Sharing at Citrix Systems, Inc.; Gerard J. Hall, founder, president and CEO of SMT; Tom Miller, Senior Vice Provost for Academic Outreach and Entrepreneurship at N.C. State; Sarah Wechsberg, director of Triangle Entrepreneurship Week; Jennifer Capps, director of operations with the EI; and Ira Weiss, dean of the Poole College of Management at N.C. State.
Williard has been involved with successful software innovation companies for more than 22 years. He previously worked with Adobe before starting JouleBug. He earned his B.S. and M.S. degrees in mechanical engineering from N.C. State in 1979 and 1987.
Lipson is a self-taught software programmer and has been involved in Internet technologies since 1999. He founded ShareFile with no employees in 2005 and now has more than 150 full-time employees. He graduated from Duke University with a degree in philosophy in 2000.
Hall transformed the way sports updates were delivered during broadcasts. He pioneered real-time graphics, tickers, visual insertions and social media integration for live sporting and entertainment events. He has worked with industry leaders like NBC Sports and ESPN. He earned his B.A. in economics from Harvard in 1981.
Miller said having support from successful people like Albright was vital to EI students.
"Andy is a pretty amazing guy that I've gotten to know over the past few years," Miller said. "He's a great supporter of our program and he's a big hit with the students. We appreciate the support that he and his wife, Jane give us for the program that we have today and for the past few years."
Albright urged successful entrepreneurs and business people to support the EI because of the impact it has on so many students.
"You are helping in a way that magnifies your investment, your ROI, what you get for what you put into it – your time, energy, effort, expertise or your money," Albright said. "I'm proud to be a part of it and I'm thrilled at the success you guys are seeing and I would encourage any entrepreneurs and business folks to be more involved because I see a bright future in this. I see this as a magnificent way to make an improvement in America, what a country, and what a program N.C. State has through the EI program."
The Entrepreneurs Lecture Series is designed to showcase outstanding innovation and entrepreneurship among NC State alumni and partners.