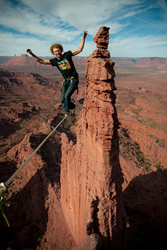 Using what I've learned to inspire people and to be inspired by people is an energy that is really addictive, and that's why I'm excited to be a prAna ambassador.
Carlsbad, California (PRWEB) February 27, 2014
PrAna is adding to the well-rounded group of athletes and activists in its ambassador program by welcoming Andy Lewis, known for his heart-pumping feats tricklining, highlining, slacklining, BASE jumping and rock climbing.
"Each of our prAna ambassadors are different, but the one thing they have in common is how much they inspire us," said prAna founder Beaver Theodosakis. "With Andy, it's his Slacklife philosophy and creativity that resonates — his pursuit of freedom along with the physical and mental balance required to move forward on the line and life, no matter the risks."
Andy is credited with opening up the world of slacklining to the mainstream after his memorable performance alongside Madonna at the Superbowl in 2012. He became the first slackline world champion in 2008, and defended the title successfully in 2009 before going on to win the Gibbon World Cup Series the following two years. He is the first person to land a backflip on a slackline, and he also holds the record for longest free solo highline, with a 55 meter crossing, 60 meters off the ground.
"Since I started applying the metaphor of how I stay on a line to my life, I have seen myself increase my balance and focus. Creating realistic goals, taking one step at a time, fighting to never give up, the importance of breath, finding a fix point, mental and physical control and training, creating challenges, embracing progression; all these things I learned through slackline have helped me develop myself and my life into what it is today," said Lewis. "Using what I've learned to inspire people and to be inspired by people is an energy that is really addictive, and that's why I'm excited to be a prAna ambassador. Plus, the way I live, I just cant keep clothes in working condition — I think prAna picked me up to just help me stay clothed."
"We're thrilled to have Andy on board," said prAna's Marketing Manager, Kat Guay. "He has a big personality, a unique perspective, and a set of skills you have to see to believe. We're looking forward to sharing his passion for slacklining, highlining, tricklining and the adventurous lifestyle he cultivates."
Lewis will be featured on prAna's website — along with all of prAna's ambassadors —where the latest photos, videos and projects are posted. Find out more about Andy Lewis by visiting prAna.com.
-30-
PrAna is a lifestyle brand that draws its name from the ancient Sanskrit word for breath, life and vitality of the spirit. Born from climbing and yoga, the prAna team creates mindfully-designed, purposeful and stylish apparel for free spirited people to pursue their passions on the water, mat, rock, trail, and street. From its beginning in 1993, prAna has been committed to weaving sustainable practices into its operations and supply chain, working to reduce its impact on soils, water supplies and other natural resources while promoting conservation. PrAna is also conscious of its impact on communities and has worked to include a growing number of fair trade styles every year. It is the first apparel company in North America to offer Fair Trade USA certified products and accessories. PrAna is sold in five flagship stores, online at prAna.com, and in 1,400 specialty retailers across the US, Canada, Europe and Asia.
For a list of prAna retailers, please visit http://www.prana.com/dealer-locator.html.