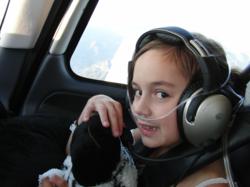 We've chosen to do this in keeping with Angel Flight West's desire to support volunteer pilot organizations and to make the case for general aviation, which is the backbone of public-benefit flying.
-- Alan Dias, Executive Director
Santa Monica, CA (PRWEB) April 30, 2013
In an unprecedented move, Angel Flight West (AFW) is making its new software system and database program, Angel Flight Information Database System (AFIDS) 2.0, available to all volunteer pilot organizations at no cost. First users include four independent organizations based in California, Texas, Oklahoma and Pennsylvania. This past weekend, AFW staff presented the program and the opportunity to 15 additional public benefit flying organizations.
"If it will enhance their services, they're welcome to use it," said Executive Director Alan Dias. "We've chosen to do this in keeping with Angel Flight West's desire to support volunteer pilot organizations and to make the case for general aviation, which is the backbone of public-benefit flying."
After four years in development, AFIDS 2.0 features high volume membership management and high-capacity flight request and debrief capabilities, all accessible through a user-friendly, robust filtering system. "Our pilots are finding the new software easier and more intuitive," reported Josh Olson, Director of Mission Operations. AFIDS 2.0 has been designed using state-of-the-art technology to easily accommodate program changes and updates.
One future user, Angel Flight Northeast (AFNE), hopes AFIDS 2.0 will replace much of the manual labor now involved in mission coordination by bringing more automation to the process. "We've been using a custom built application from…ten years ago. It is doing the job but is lacking some features that the new AFIDS 2.0 has added," says Dick Sundell, director of flight operations. AFNE currently arranges an average of 90 flights weekly, but expects that number to rise as the economy recovers.
Non-AFW adopters can access the same program as Volunteer Pilot Organization Information Database System, or VPOIDS. While AFIDS 2.0 may be rebranded and is available at no cost, any end user that creates a change to the program must make that change available to all other users.
Angel Flight West (AFW) is a nonprofit, volunteer-driven organization that arranges free, non-emergency air transport within the 13 western states for children and adults with serious medical conditions and other compelling needs. AFW matches volunteer pilots with people who need medical treatment and other vital care that might otherwise be inaccessible because of financial, medical or geographic limitations. Angel Flight West flew over 4,200 missions in 2012 and hopes to surpass that in 2013.