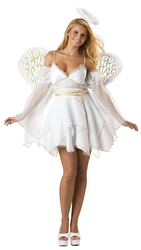 Fort Lauderdale, FL (PRWEB) August 18, 2009
Costume Cauldron has announced the arrival of many new and original costume ensembles for the 2009 Halloween season including angel Halloween costumes. Costume Cauldron is a leading online retailer of more than 10,000 adult Halloween costumes, children's costumes, costume accessories, props and costume party favors available from its online store. The company continuously strives to preserve and permeate the folk lore and fantasy factor traditionally associated with Halloween celebrations by attempting to capture the occasion's magical and mystic charm through its ever-growing product collection.
The Angel Costume Collection, which features many unique and original designs, continues to gain popularity year after year. For the curtain opener, there is the Angel Women's Md, an A-line sliver sequin short dress, delicately coordinated with a pair of white wings with elastic shoulder straps, and a glitzy white marabou halo on a matching headband. These Halloween costumes are expected to become the star attraction and the hit of the season, according to the company. Similarly, The Heaven Sent Adult Large is a lace trimmed chiffon and satin mini dress with gold lacing, chiffon and lace bell sleevelettes, marabou-trimmed wings, and a matching halo. Made from super premium fabric, this angel costume is a top-of-the-line outfit bound to attract a dozen gazes. Following immediately in its footsteps is the Angel Dress 1 sz, a lovely traditional full-cut white dress with long sleeves and exquisitely crafted silver trim. It includes a cord-style matching belt and fits most women size 8 to 12. For the big and tall ladies wishing to adorn themselves in a shimmering angel outfit, there is the Angel Dress Md-Lg also available in an XL which is a sequin and mesh trimmed dress with an off shoulder drop sleeve and halo. For a pure and ultra traditional get-up, the company offers lovely angel Halloween Costumes in velvet style as a gown, which comes with three perfectly matched accessories-- a belt, wings and halo. This outfit is readily available in sizes 16-26.
Expertly designed and tailored using premium quality fabric, these angel dresses are perfect for customers wishing to incarnate as guardian angels, cherubs or even the archangel Gabriel. Costume Cauldron devotes special attention to its customers' costume accessory needs as it does to its costumes. Angelic Halloween costume accessories such as angel wing collars, the Angel Club Accessory Kit which includes a corset, loop & hook, attachable wings and corresponding headpieces, deluxe angel theatre headwear, angel feathers and angel wigs which come in an assortment of colors, can be used to ad that penultimate magical touch.
"The Women's Angel Halloween Costume line is sure to transform many stunning ladies into angelic and ethereal beings on Halloween night," predicts Heather Gibbs, a customer service representative at Costume Cauldron, who has already reserved an Angel Halloween costume for herself to wear at her annual Halloween gathering. Most costumes are available in a variety of women's sizes all of which are featured on the company's website.
The popularity of angel costumes during Halloween can be attributed to a rich ancient pre-biblical tradition in which angels were perceived as spiritual beings who were benevolent messengers of God. The term "angel," which originates from the Greek phrase "angelos," is synonymous with the Hebrew term "mal'akh." In Hebrew, the term refers to a "messenger" of God. Angels derive their status and symbolic significance from their association with divine forces. This association happens to be cross-cultural and transcends religious boundaries. For example, the angel "Mithra," a Persian god, assumed the status of an angel in many religions including the Zoroastrian religion, which is practiced even to this day. In the Islamic tradition, the angel Gabriel is said to have conveyed the religious edicts of Islam to Prophet Mohammed while serving the symbolic role of God's messenger. In the biblical and Hellenistic traditions, which incorporate both Greek and Roman beliefs, angels roamed the terrestrial realm as the protectorate of Mankind.
About Costume Cauldron
Costume Cauldron is an Internet e-commerce retailer of Halloween costumes for children, teens and adults. The company stocks more than ten thousand Halloween costumes, props and accessories in a wide variety of colors, shapes and sizes to suit every Halloween costume party theme. The company deploys a state-of-the-art website to enhance the customer buying experience which is further enhanced through telephone, e-mail and live chat customer support.
###