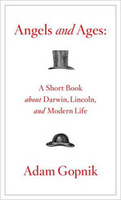 New York, NY (PRWEB) March 5, 2009
On a memorable day in human history, February 12, 1809, two babies were born an ocean apart: Abraham Lincoln in a one-room Kentucky log cabin; Charles Darwin on an English country estate. It was a time of backward-seeming notions, when almost everyone still accepted the biblical account of creation as the literal truth and authoritarianism as the most natural and viable social order. But by the time both men died, the world had changed: ordinary people understood that life on earth was a story of continuous evolution, and the Civil War had proved that a democracy could fight for principles and endure. And with these signal insights much else had changed besides: Darwin and Lincoln had ushered humanity into an utterly new world, with a new kind of consciousness and hope.
Searching for the men behind the icons of emancipation and evolution, Adam Gopnik reintroduces us, in this captivating double biography, to Lincoln and Darwin as they really were: family men and social climbers; ambitious manipulators and courageous adventurers; the living husband, father, son, and student behind each myth. Above all, we see Lincoln and Darwin as thinkers and writers; as makers and witnesses of the great changes in thought - cultural, political, scientific, and religious - that mark truly modern times.
Gopnik has penned his most fascinating work yet, a book that brightly illuminates the lives and works - and words - of two men who ushered in the modern liberal world. Because the promise of the Obama Administration relies heavily on the continuing search for new perspectives on our past, present, and future, Angels and Ages resonates with the spirit of the moment.
Angels and Ages is the tenth PBC Pick for Progressive Book Club, which launched its Web site in June of 2008, following The Big Squeeze: Tough Times For the American Worker by Steven Greenhouse (June), Moral Clarity: A Guide for Grown-up Idealists by Susan Neiman (July), The Power of Progress: How America's Progressives Can (Once Again) Save Our Economy, Our Climate, And Our Country by John Podesta (August), The Way of the World: A Story of Truth and Hope in an Age of Extremism by Ron Suskind (September), The Green Collar Economy: How One Solution Can Fix Our Two Biggest Problems by Van Jones (October), Promised Land by Jay Parini (November), State by State, edited by Matt Weiland and Sean Wilsey (December), The Defining Moment by Jonathan Alter (January), and The Inheritance by David E. Sanger (February).
The PBC Pick is chosen monthly by Progressive Book Club's Editorial Board, whose distinguished members include Michael Chabon, Dave Eggers, Barbara Kingsolver, Hendrik Hertzberg, Gail Sheehy, Katrina vanden Heuvel, John Podesta and Andy Stern, among more than two dozen prominent authors, journalists, academics and politicos.
About Progressive Book Club
Progressive Book Club finds - and promotes - the books that can change our nation by harnessing the power of the Internet to create an important new platform for progressive ideas. Part bookseller, part online magazine, Progressive Book Club is the best new way to buy books and support progressive causes with every book you buy.
# # #