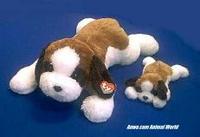 Dog plush stuffed animals allow anyone the opportunity to have their very own dog
Chesapeake, VA (PRWEB) November 24, 2009
Shopping is always a challenge every Christmas Holiday Season but with the following animal and pet lovers Top 10 gift list the selection process is easier. To find the perfect gift Anwo.com Animal World brings it's 24 years of experience and ranks the Top 10 animal and pet lover gifts for ideas that show thoughtfulness and are sure to be appreciated.
1. Dog Plush Stuffed Animals - Toy Plush stuffed animals have come a long way from teddy bears and bunny rabbits and they have never been more popular. With a Portuguese Water dog in the White House even more attention has been brought to dog ownership. "Dog plush stuffed animals allow anyone the opportunity to have their very own dog". Best of all, dog plush stuffed animal toys are always ready to provide unconditional love and companionship.
2. Wildlife Plush Stuffed Animals - Similarly people who love the allure and enchantment of wild animals can "capture a sense of the untamed spirit in Wildlife plush stuffed animals". Available in a wide variety of land, sea, and air plush wildlife stuffed animals allow a safe hands up close and personal encounter unavailable with real animals in the wild.
3. Animal Toy Miniatures - When people think of their childhood plastic toy miniatures only cowboys and Indians or army men come to mind. Those days are long gone. Today there is an extensive selection of "animal toy miniatures in safari, dinosaur, farm, ocean, bird, river, prehistoric, mountain, and pet themes". While children play with animal toy miniatures they sound out and memorize animal names, habitats, diets which spark imagination and creativity.
4. Animal Blanket Throw Tapestries - People spend a lot of time during winter months covering up on the sofa to watch TV or read a book. "Animal blanket throw tapestries can combine love of animals with home decor" and are a perfect solution for warmth on a chilly days. Animal Blankets capture famous wildlife artwork with made in the USA quality that is highly regarded.
5. Dog Blanket Throw Tapestries - Dog blanket throw tapestries also make great gifts. For many pet owners this may be their first Christmas Holiday season without their beloved pet. To lift spirits and help fill the lost love "Dog Breed specific Dog Blanket Throw Tapestries made in the USA" can help soften the sadness and cherish the special lost relationship. Dog blanket throw tapestries are available in most dog breeds from Australian Shepherd Dogs to Yorkshire Terriers and breeds in between such as Labs, Pugs and Rottweiler.
6. Animal Crossing Signs - Concerned animal and pet lovers utilize Animal Crossing Signs for safety function outdoors, but people's "creativity and imagination has made Animal crossing signs a top seller". People receive nicknames like bear or moose, love flamingos, have a snake collection, become an eagle scout, or had an encounter with an opossum. After safety function the possibilities are endless for good humored fun and for America's economy the animal crossing signs are made in the USA
7. Animal Earrings Gold - Jewelry has long been a favorite gift for both giving and receiving. Animal earrings that depict animals makes it a combination hit for animal and pet lovers. "Animal Earrings Gold Jewelry are beautiful", handmade, lightweight have a luxurious glimmering shine and best of all they are crafted in the USA,
8. Dog Figurines - For pet lover traditional gift needs, dog figurines are a long time favorite for display in curio cabinets, on mantles or on a desk at work. The relationship between people and their pets always seems to be too brief. "Dog Figurines provide a tribute and a way to help a fond memory last a lifetime". Sandicast is a popular choice for dog figurines because of their wide selection of realistic, heartfelt dog statues in most dog breeds.
9. Animal Figurines - People love going to the beach and the mountains whenever they go on vacations. "Animal figurines take people away from their busy days to a tranquil peace of mind and relaxation". Animal figurines like dolphins, pelicans, seagulls, and whales take people back to a sunny summer day at the beach . Other animal figurines like wolf, owl, lion, bobcat, tiger and eagles transport people to windswept mountains and a feeling of the wild.
10. Animal Puppets - Puppets are fun and unpredictable because the personality of the puppeteer is translated through the animal puppet. "Teachers especially love puppets" because they are able to capture the attention of their students which makes education easier and learning more fun.
Still stumped on what to give animal or pet lovers? How about a dog or animal t shirt. What to buy for the couple on your list? "His and her animal or pet lover t shirts provide fashion and fun". Use the Anwo.com Animal World top 10 animal and pet lover gift list to create smiles and happiness this Christmas Holiday Season.
###