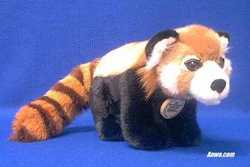 We have already seen an increase this fall in our animal and pet lover gift sales and this trend will continue throughout this Christmas Holiday Season.
Chesapeake, VA (PRWEB) October 22, 2009
Children and adults of all ages love animals and Anwo.com Animal World has the gifts for this holiday season that will put a smile on everyone's face Christmas morning. "We have already seen an increase this fall in our animal and pet lover gift sales and this trend will continue throughout this Christmas Holiday Season." Animal and pet lover gifts seem to spread their own unexpected love and joy through every Christmas Holiday Season.
Natural looking realistic wildlife plush stuffed animals are a specialty at Anwo.com Animal World. Giraffes, elephants, wolves, tigers, eagles, dolphins, turtles and frogs represent a few of the easy to find plush stuffed animals at Anwo.com. Anteaters, squid, coatimundis, belugas, red pandas, chinchillas, whale sharks, snow leopards and llamas represent in contrast a few of the harder to find plush stuffed animals featured at Anwo.com Animal World. With a complete selection from A-Z Anwo.com Animal World carries Aurora, Douglas, Fiesta, TY, Russ, Wild Republic, and Cabin Critters plush stuffed animal toys.
Dog plush stuffed animals are a similar specialty at Anwo.com Animal World. With a wide selection of standard breeds like Rottweiler, Poodle and Dachshunds there are also many hard to find breeds like Greyhound, Weimaraner and Maltese. Dog stuffed animals range in sizes from small to life size and all are ready to offer unconditional love and companionship. Whether for young children, college students, patients in hospitals or the elderly, dog plush stuffed animals can raise spirits, provide hope and return unending love.
Animal blanket throw tapestries represent another department at Anwo.com that is popular every holiday season. Animal Blankets in bears, lions, deer, moose, and elk to name a few combine superb wildlife art with high quality tapestry workmanship that is made in the USA. "The Animal Blanket Throw Tapestries are one of America's favorite holiday gifts." Animal blanket throw tapestries can be displayed on a wall, draped over a couch, bed or chair and provide functional warmth on a chilly day.
The dog blanket throw tapestries similarly touch a soft spot in a pet lovers heart and are also a very thoughtful Christmas gift idea. Dog blanket throw tapestries are available in all popular breeds like Yorkshire Terrier, Pug, Boston Terrier, Beagle, or Retriever and many hard to find breeds like St Bernard, Pomeranian, Dalmatian, Schnauzer, Springer Spaniel, Saluki, Setter and Samoyed. Dog blankets throws from Scene Weaver, Pure Country, Mill Creed and Manual Woodworkers capture the essence of the breed and all feature superb craftsmanship and artwork.
Animal Crossing Signs are made in the USA for animal safety function and indoor animal fun. Made of durable aluminum, with detailed animal artwork and bright yellow diamond shape these Animal Crossing signs provide wildlife education on trails, at zoos, habitats, and private roads. The Animal Crossing Signs also work well in home decor to declare a personal love of wildlife in memorabilia.
Animal Toy Miniatures are always a popular gift every Christmas Holiday season. Children can use their imagination and creativity in playing with realistic animal toy miniatures while at the same time learning. Animal toy miniatures can be handled, examined and displayed without worry of breakage. Representing animals from the land, sea, sky and every continent the animal toy miniatures can provide hands on educational opportunities at home and at school. Likewise, dogs, cats, horses, as well as extinct animal like dinosaurs and ice age animals are also available in Schleich and Safari animal toy miniatures.
Animal Puppets are a lot of fun and they continue to improve in realism and ease of handling. Providing an opportunity to express different personalities, animal puppets come to life in the hands of puppeteers of all ages. Teachers create enthusiasm with their students during story time when the characters come alive with the use of an animal puppets. All Folkmanis animal puppets at Anwo.com Animal World present a realistic natural look for added educational benefit.
Cast stone animal and dog figurines are often part of many Christmas Holiday gift lists. Sandicast animal and dog figurines combine unmatched realism with a feeling of warmth. For this reason Anwo.com Animal World features Sandicast dog figurines that capture the beauty of each breed and the memory of the pet in artwork that is designed to adorn the family curio, shelf or mantle.
Anwo.com Animal World provides an excellent selection of heart warming animal and pet lover theme gifts that will help make this Christmas Holiday Season memory one that will last a lifetime. "We expect strong sales this animal gift theme Christmas holiday season."
###