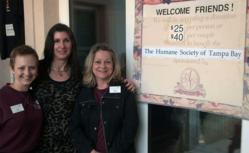 The Humane Society of Tampa Bay does amazing things for Tampa Bay.
Tampa, FL (PRWEB) March 27, 2013
AnswerFirst Communications, an answering service and customer service solutions provider, announced this week that they attended the Tampa Bay Humane Society's VIP Wine Tasting for the Animals Benefit in support of the Tampa Bay Humane Society. The event was hosted by Mike Kawsin of Fine Wine & Spirits Warehouse at his home in South Tampa. Guests paid $25 per person or $40 per couple for the opportunity to sample hundreds of fine wines from around the globe while interacting with other animal lovers and business owners from the Tampa Bay area.
According to their website, the Humane Society is dedicated to ending animal homelessness and providing care and comfort for companion animals in need. They are a limited admission shelter and only accept animals that they feel they can adopt. They are a "No Kill for Space" shelter, which means that they will not euthanize an animal to make space for another animal.
They are committed to a community approach to help lower the euthanasia of animals in our county. Their website also explains that the majority of their programs and services are funded through donations from businesses and individuals in their local community.
AnswerFirst Business Development Coordinator, Tricia Thompson, stated, "The Humane Society of Tampa Bay does amazing things for Tampa Bay, from low-cost spay/neuter clinics to affordable vaccination programs and their well-known animal adoption centers, they bridge the gap between homeless pets and people in search of companion animals. The VIP Wine Tasting event was a fun way to try various exotic and fine wines and meet new people while supporting the Humane Society and all that they do."
According to their website, AnswerFirst is based in Tampa, FL and began providing basic answering services in 1985. AnswerFirst now employs almost 100 people across the United States and provides complete contact center and customer service solutions to more than 1700 companies around the globe.
For more information about AnswerFirst's answering service and call center solutions please visit their website or call.