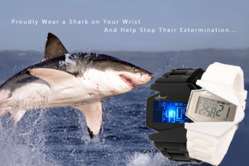 Stop shark finning today with the TIMESHARK wristwatch.
Calgary, Alberta (PRWEB) March 11, 2013
WarWhale Creative Group, a creative online marketing company, is launching the TIMESHARK wristwatch. The product is positioned to raise money and awareness around the indiscriminate slaughter of sharks worldwide, while encouraging consumers to make a difference.
The TIMESHARK mission is simple. They wish to stop shark finning through education and by getting consumers talking about the issue. WarWhale hopes to change and inspire the way average consumers think about purchasing products. By harnessing the purchasing power of the masses, the anti-shark finning watch can encouraging them to help make the world a better place. "With the news of 100 million+ sharks being slaughtered each year, I had to do something," said Shea Browne, Design Director. "Our goal is meant to get people to ask about the trendy design and then get them to care about the shark finning issue."
The TIMESHARK wristwatch features an innovative shark-fin design with a silicone band and a screen that can have the LED time display change to one of seven colours. Consumers have the opportunity to pick their choice of casing and strap colour: white, black, and limited edition steel grey. The shark-fin design reminds purchasers of their commitment to anti-shark finning efforts while spreading awareness each time they get asked about the beautiful head-turning design.
About WarWhale Creative Group: WarWhale is a creative company based out of Canada who specialize in bringing unique products to the market. They are best known for establishing online marketing products, having the passion for changing the world, and formulating new products and marketing techniques. In their past work, WarWhale has been able to bring focus to worldly issues and have been leaders in their industry.