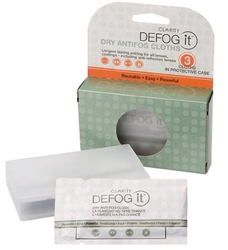 Fogged ski goggles are dangerous for kids. They can't see or, worse yet, they take off their goggles. Defog It antifog prevents that problem.
Valley View, OH (Vocus) December 30, 2010
When it comes to worries about children's winter sports injuries, most parents think of broken ankles and wrists. But Defog It antifog reminds parents that skiers and snowboarders need to take care of their eyes, too, and offers a simple 4-point safety checklist.
The National Ski Areas Association and the National Ski Patrol both recommend eye protection for all skiers and snowboarders. In their Ski Tips for Kids, the NSSA cautions: "Always wear eye protection. Have sunglasses and goggles with you." In addition to protecting eyes from trauma, goggles and sunglasses prevent eye damage from the sun's UV radiation, as noted by the website familydoctor.org.
"Fogged ski goggles are dangerous for kids. They can't see or, worse yet, they take off their goggles. Defog It antifog prevents that problem," comments John Swett, Vice President of Sales and Marketing for Nanofilm, maker of Defog It.
Remember, impaired vision is more than a hassle on a great down-hill run. It can be a serious safety hazard. Keep your child's vision protected, clear, and fog-free. Defog It antifog offers this checklist for vision safety on the slopes:
1. Wear goggles to protect vision. Eyewear is vital for helping prevent flying snow and ice from obscuring vision during a high-speed descent, and it helps protect a skier's eyes from twigs or debris. Sunglasses can block UV rays that can cause vision damage.
2. Fog-proof your sunglasses and eyeglasses. Use an antifog spray or antifog towelette, like Defog It to prevent fog. Carry it your pocket or gear bag. Some goggles have venting or anti-fog coatings to reduce fogging.
3. Give new life to "fog-free" goggles. If goggles have lost their fog-blocking ability, an application of an antifog like Clarity Defog It can help clear things up.
4. Help kids keep a fog-free view when they head for the chalet, too. Wear eyeglasses? Going from slope temperatures to a toasty fire can fog up lenses. An antifog can help assure kids see all the fun.
First used by the military worldwide, Defog It is the proven safety choice in the toughest environments where heat, cold, humidity and exertion cause fogged eyewear. The product is safe and effective on eyeglasses, sunglasses, goggles and faceshields and all optics.
Lab tests confirm the antifog's high performance. In one test, a lens treated with Defog It was held over constant hot steam for 60 minutes without fog forming. Similar products failed in as little as 5 minutes. In another test, lenses coated with Clarity Defog It were moved between cold and hot environments 100 times without fog forming.
Defog It is available as a liquid or reusable cloths. More information, pricing and performance videos are available at http://www.defogitworks.com]or by calling 1-888-ENDS-FOG.
Nanofilm, founded in 1985, is the maker of Clarity Defog It and a global optical leader in lens care and coatings. Millions of people around the world use Nanofilm products, including Clarity Clean It™, Clarity Defog It™ and other lens care products, as well as nanotechnology-enabled coatings.
###