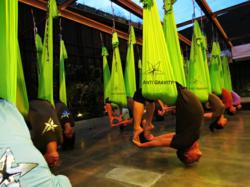 In comparison to other yoga classes, the moves felt constructive without feeling like a chore. Part of what makes it so special is the sense of suspension - Gwyneth Paltrow
New York, NY (PRWEB) March 02, 2013
AntiGravity® Fitness is excited to announce that Academy Award winning actress Gwyneth Paltrow is the latest celebrity to endorse Christopher Harrison's AntiGravity® Aerial Yoga. After exploring all directions of open space and turning herself upside down in zero-compression inversions in a class, she raved about the technique in her popular blog GOOP "In comparison to other yoga classes, the moves felt constructive without feeling like a chore." She went on to say, "Part of what makes it so special is the sense of suspension."
Gwyneth Paltrow is an exercise connoisseur who knows quality programming and understands the importance of the body-mind connection. The Hollywood bombshell whose svelte body defies the laws of gravity, discovered this week what so many others are also finding out: zero-compression inversions via AntiGravity® Aerial Yoga is not only the best way to get kinks out of the back, its a fun, safe and effective workout! She joins Pink, Madonna, Mariah Carey, Britney Spears, Courtney Love, Jane Krakowski, Spice Girl Geri Halliwell, Cameron Mathison, Marla Maples, Kathy Lee Gifford, Sherri Shepherd, The Victoria's Secret Models and Sir Richard Branson as celebrities familiar with the magic of the Harrison AntiGravity® Hammock.
Founder Christopher Harrison conceived of, introduced and popularized the aerial yoga genre. AntiGravity, America's premier Entertainment/Fitness brand was founded in 1990 by Award winning Broadway Aerial Designer Christopher Harrison, known for flying celebrities. AntiGravity was President Barack Obama's choice as the only non-singing performance act at his 2009 Inauguration Neighborhood Ball TV celebration.
Recently, he choreographed The Victoria's Secret Fashion Show which featured the prestigious Team AntiGravity® in the circus themed opening number with supermodel Adriana Lima as the Ringmaster, as well as the show stopping performance of Rihanna, "Phresh Out the Runway". He has also collaborated on an upcoming Stephen Spielberg project.