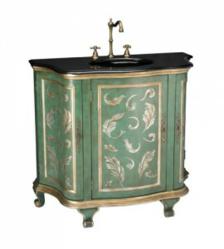 The simple difference between typical antique bathroom vanities and ones suited for a truly lavish style is, quite simply, the "wow" factor.
(PRWEB) July 08, 2012
HomeThangs.com has made their goal to deliver the right product to the consumer, with that in mind, shopping and home design tips, as well as special product selections are being introduced.
There are certain things to keep in mind while picking the right piece of bathroom furniture to get that period style look and feel, it cannot be just a typical antique-inspired bathroom vanity, with exotic wood veneers and elaborate carvings. That has to be that truly decadent antique vanity for a perfect focal point in a lavish period style bathroom. Interior designers at HomeThangs.com give suggestions on what vanities would be the best fit to make the décor complete.
1. It is important to keep in mind how lavish (and often exclusive) the bathroom space used to be. Antique bathroom vanities, such as the Antique Cherry Vanity W5295 by Legion Furniture that combine exotic wood and carved detailing with elaborate hardware and decadent, parlor-style shapes would make a great centerpiece in a decadent period style bathroom.
2. Traditional bathroom vanities are often structurally quite similar to more contemporary bathroom cabinets – long, rectangular, and static. In a way, that makes them invisible. Even with very lush woodwork, it's still visually a storage space. To really make a statement with antique bathroom vanities, one needs to think a little outside the box, opting for rounded units, such as the Antique Walnut Vanity LF0056 from Legion Furniture. Simply clipping the corners and giving the vanity a little curve acts as a little visual surprise, and can help turn the vanity into a focal point of the bathroom.
3. Another thing to look for is antique vanity that echoes other types of furniture. Especially in the days before indoor plumbing was common, bathroom furnishings weren't constrained by the location of the plumbing. So a bathroom vanity that looks freestanding, more like an elegant table or chest than a cabinet would be a great choice. Better still, if it also has a beautiful vessel sink , such as the Semi Circle Vanity SCR-V from JSG Oceana. It will evoke antique washbasin while helping to make the bathroom vanity a more interesting focal point.
4. Dresser style vanities work in a similar way. The Dresser Vanity BC004 by Legion Furniture, for example, is about as wide as an average cabinet (and much heftier than a real dresser), but the curved edges and dresser-style hardware set it apart. Even if those drawers only ever hold rolled up towels, the style makes a great basis for a lavish period inspired bathroom, and a great prop to help bring back the slow, sophisticated ritual of bathing and dressing of bygone days.
5. Lavish, period-inspired bathroom does not have to be big. Smaller antique bathroom vanities, such as the Goblet Style Vanity HYP-0141-BB-UIC-23 by Silkroad Exclusive comes with all the ornate detailing and eye-grabbing pizzazz one'd want for a really decadent style. Pedestal vanities in general are not a terribly traditional or authentic choice, but for a smaller guest bathroom or powder room, they work incredibly well to elevate the decor.
6. Some vanities, such as the Dark Cherry Vanity W5306 by Legion Furniture are made for decoration and accessories. Open shelved bathroom vanities make a perfect platform for little trinkets, and this one is perfectly suited to small antique glass bottles or even a silver soap tray. While the vanity itself is fairly simply adorned, with delicate beaded carvings and tooled, spindly legs, the space afforded by the open shelves gives plenty of room to customize and emphasize that antique bathroom decor.
7. To really take the period inspired bathroom to the next level, it might be time to throw woodwork out the window. Authentic antique design relied heavily not only on wood, but also on color, texture, and pattern. The Aquarelle Vanity 88-1011SM by Sterling is relatively simple when it comes to the woodwork, but is unique and eye catching in almost every other way. The slightly distressed teal finish is the perfect pair for luxurious upholstery and window dressings. At the same time, the silver paint adds a little flair and takes the place of floral carvings typical to antique bathroom vanities. Finally, the vanity has a sassy, unconventional shape and antique style feet and molding, which make it a perfect, lavish focal point.
This Jakarta Vanity 88-1008SM by Sterling might not pass for an antique vanity if one had it to pull out of a lineup. But for a truly decadent bathroom decor, one really can't beat the stained-glass style paneling and matching vessel sink. The simple ebony (rather than wood) finish makes it easy to pair with a wide variety of materials and styles, but the pane-style peepholes and rich color make it a perfect pair for a vintage décor.
HomeThangs.com is not only a home improvement superstore, it also provides expert design tips and a comprehensive shopping guide, taking the ideas from professional interior designers, and offering tips to the consumers on how to pick the products to best suit their needs.