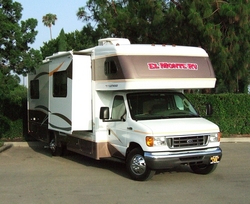 Los Angeles, CA (PRWEB) August 25, 2009
A robust American antiques circuit keeps antiques lovers traveling year-round to visit favorite vendors and bring home treasures.
El Monte RV, one of America's leading motorhome and RV rental and sales companies, is pleased to announce it will now be offering antiques buyers travel planning and antiques fair information to keep them moving down the road. The company's top-of-the-line recreational vehicles provide antiques aficionados both a home away from home and a way to transport their purchases easily.
With more than fifty motorhome rental locations nationwide, El Monte RV makes it convenient for bargain hunters traveling the antiques circuit to rent the recreational vehicle that best suits their needs. The company's website features full-service travel assistance for every budget.
As the fall antiques season heats up, El Monte RV rental clients will be searching for treasure at New York City's Antiques Week, antiques festivals throughout the south and large-scale West Coast street fairs. This premier motorhome sales and rental company plans to continue catering to the needs of bargain hunting antiques fans as they continue the quest for fine things.
About El Monte RV
Headquartered in Los Angeles, El Monte RV is one of America's leading motorhome and RV rental and sales companies, catering to both international and domestic travelers. The company has experienced rapid growth throughout the United States, thanks to its reputation for exceptional customer service. El Monte RV is the only nationwide motorhome rental company to offer the larger Class A luxury vehicles for rent. For more information about El Monte RV, contact 800-337-2141 or visit our website El Monte RV Rentals.
###