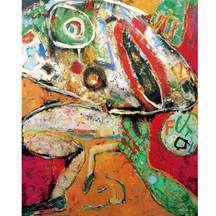 The imaginary realm of George McNeil's painting is one of the richest in contemporary art.
New York, NY (PRWEB) September 18, 2007
Bond & Bowery (http://www.bondandbowery.com)] – the visionary new online address for antiques and fine art – is filling its virtual showrooms with unique pieces from dealers around the globe.
Bond & Bowery integrates the latest technology with decades of best practices, offering dealers and buyers alike an unprecedented marketplace for the world's finest antiques and fine art.
Among the distinctive offerings this week:
Futbol
Artist: George McNeil
Country: USA
Work Date/Period: 1986
Description: George McNeil (1908-1995) studied at the Pratt Institute, the Art Students League, the Hans Hoffmann School of Fine Arts and Columbia University. He was an original and indefatigable presence in the New York art community for decades. He earned awards and fellowships from the Ford Foundation, the National Council on the Arts and the Guggenheim. He has been collected by major museums, including MOMA, The Whitney Museum of American Art and The Walker Art Center. Carter Ratcliff said that "The imaginary realm of George McNeil's painting is one of the richest in contemporary art." "Futbol" is an amazing example of his virtuosity in color and texture.
Venini Chandelier designed by Gio Ponti
Creator: Gio Ponti for Venini
Period/Style: Mid Century Modern
Country: Italy
Date: 1950- 1970
Description: A gold and clear hand blown glass four arm chandelier designed by Gio Ponti in 1950 for Venini. This design was made in a large eight arm or small four arm version in multi colors, in which each arm is red, blue, green, gold or clear glass. Here a small group of these chandeliers were custom made by Venini in gold and clear glass for a private client between 1950 and 1970 and makes them very rare. This design is published and documented in the Gio Ponti book by Rizzoli. Four chandeliers are available.
Coffee Table
Creator: George Nakashima
Period/Style: Modern
Country: American
Date: ca. 1960
Description: Hand-crafted table by the renowned master woodworker George Nakashima, this piece was bought directly from the craftsman in the 1960's.
Pair of Leather Library Chairs
Country: England
Date: 1860
Description: A pair of English mahogany library chairs upholstered in tufted green leather. Mahogany frame with wonderful carved arms on turned mahogany legs with original castors.
To learn more, please contact Zachary Hastings Hooper at 202.862.4355 or Caroline Hemingway at 212.255.8455.
About Bond & Bowery
With the national passion for home design and redesign fueling the antique furniture and fine art industries, Bond & Bowery fills the need for a one-stop online destination offering the best pieces and art works from all periods and styles. Bond & Bowery is the brainchild of antiques dealers George Evans and Elliot Spaisman and seasoned marketer and business executive Ben Spaisman, with backing from a group of industry professionals.
Contact:
Zachary Hastings Hooper
The Rosen Group
202.862.4355
zachary @ rosengrouppr.com
Caroline Hemingway
The Rosen Group
212.255.8455
caroline @ rosengrouppr.com
# # #