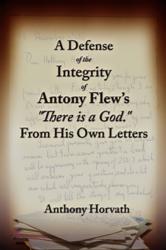 Pretty much every description of his book given to me by Dr. Flew himself in his letters to me matches up with what came out in the book.
La Crosse, WI (PRWEB) September 02, 2012
A couple of years ago, famed atheist Antony Flew announced that he had changed his mind. He published a book by the same name but before the ink was dry atheist critics began looking for ways to diminish the significance of the event. They launched a two-pronged attack: first, they said that Dr. Flew had gone senile and second, they said that his book and the arguments it contained were fabricated by a Christian apologist--that is, someone who defends the Christian faith.
Dr. Flew died in April of 2010, but the campaign to marginalize him and his conversion to Christianity continues unabated. It is not hard to understand why. Dr. Flew was the most prominent advocate for atheism for nearly five decades and used to bang heads against another famed atheist-turned-Christian, C.S. Lewis. The conversion of yet another atheist powerhouse to Christianity was not good for the atheist cause.
Did Dr. Flew really give up his atheism after he'd lost his mind? Enter Anthony Horvath, an author and apologist and executive director of Athanatos Christian Ministries. Long before it was even known that Flew would be releasing a book explaining his 'conversion,' Horvath had been in written correspondence with Dr. Flew. In the letters, Flew speaks openly about the forthcoming book, what it would be about, and the points it would make. Horvath's letters conclusively show that many of the examples insinuated to be fabrications of the Christian co-author, Roy Varghese, truly were Dr. Flew's own arguments and illustrations.
Since the letters are in Flew's own handwriting, there is no doubt that the letters represent the real views of Antony Flew.
Horvath says, "It is unreasonable to expect Flew to address in detail every charge that would be made about him years before they are made, especially when the number of charges came to rival the number of universes in the multiverse. I do not contend that these letters answer every charge, but there are a fair number of instances where specific challenges made by atheist critics can be decisively fought off."
Horvath has made the letters available in an e-book and hopes that they will set the record straight. He says, "Atheists may not like the fact that a longtime ally deserted them, but that doesn't mean sanity deserted the ally. Follow the evidence; don't denigrate the man."
Horvath gives one example, where one critic doubts the integrity of Flew's book "There is a God" because it doesn't make reference to the 'Deism of Jefferson' but in his letters, Flew does reference Deism, but cites Einstein--which is the same illustration the book gives."
The most serious charge made was that Flew was unaware of just how much of the book would be written by the co-author, but in one of the letters he writes, "What this book will also contain is a great deal, indeed by far the larger part from Christian writers."
Horvath argues, "Pretty much every description of his book given to me by Dr. Flew himself in his letters to me matches up with what came out in the book. It is reasonable to give the rest of the book the benefit of the doubt. If Varghese got these points right, he likely got the rest right, as well."
The e-book, "A Defense of the Integrity of Antony Flew's 'There is a God' From His Own Letters" is available for the Kindle and the Nook or directly from Horvath's web page.