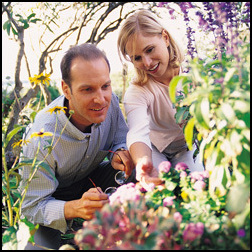 Norwalk, Conn. (PRWEB) April 10, 2007
It's spring, and that means busy times around the old homestead, reports AP9 HomeWorksPlus, a leading membership discount program from Adaptive Marketing LLC, because it's time to revamp the house, garden and surrounding areas. Things in and around the house can take a beating during the winter months between ice, snow and colder temperatures -- even the winter blues. AP9 HomeWorks Plus offers its members tricks and tips on what it takes to restore the house's shine and keep things sparkling, long after Old Man Winter has decided to call it quits -- at least until the next go-round.
Neglecting home upkeep during the winter months seems, well, about par for the course. And that's just where a well-designed spring-cleaning regimen and home maintenance program can lead -- out of the garage, back yard or attic and straight to the golf course or some other worthwhile open air locale. AP9 HomeWorksPlus can help make the transition to spring that much faster with these five helpful indoor and outdoor spring maintenance improvement ideas:
-- To "air" is human. There's nothing better than getting all the old, stuffy air out and letting all the clean, crisp air back in. Just remember to be safe and environmentally sound. Try cleaning things up with non-toxic soaps for better indoor air quality.
-- Cool will soon be king. It won't be long before that first really hot day. Think ahead and try out that air conditioning system now -- not later.
-- Raise the roof. Okay. Don't literally raise it, but inspecting it is always a good idea. Look for loose or curled-up shingles, and think about re-roofing if the damaged shingles cover at least 20% of the roof.
-- Free 'em up and check 'em out. Be sure to remove all debris from gutters and downspouts, and patch up any holes. Also, make sure the cleared downspouts aim water at least five feet from the house's foundation walls.
-- Don't bug me. It might actually be reassuring to see those first few spring insects, but that doesn't mean they belong in the house. Trim branches and trees that are touching the house, and keep bugs outside.
AP9 HomeWorks Plus offers these tips to help make spring what it's supposed to be -- a return to the "outside" world after a long winter. So let the fresh air drift right in, and let all the old air waft back out. Celebrating spring's return is simply a breeze -- with a little help from AP9 HomeWorksPlus.
About AP9 HomeWorks Plus
AP9 HomeWorksPlus is a leading membership discount program offered by Adaptive Marketing LLC. Headquartered in Norwalk, Conn., Adaptive Marketing is a category leader in membership programs, bringing value direct to consumers through an array of benefits in healthcare, discounts, security, personal property and personals. Members may access their benefits at HomeWorksPlus123.com. With broad online and offline distribution capabilities, Adaptive Marketing offers its corporate client partners effective tools to enhance market presence, strengthen customer affinity and generate additional value through programs such as AP9 HomeWorks Plus.
###