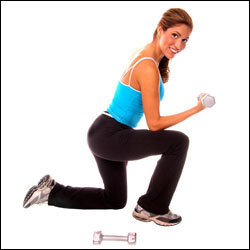 Norwalk, CT (PRWEB) July 24, 2007
Over the years, people have always looked for the equivalent of a "get rich" scheme when it comes to having a good body. Unfortunately, there are no shortcuts when it comes to getting into shape and losing weight. Eating healthy and regular exercise are the only ways to sculpt that perfect body, reports AP9 SimplyYou, a membership program that offers significant benefits in healthcare, discounts, security, personal property and personals.
One of the main reasons that people exercise is to lose weight, reports AP9 Simply You. But losing weight is only one of the many benefits that people can gain from regular physical activity. From improving quality of life to reducing stress, exercise adds years to one's life, gives people more energy, and helps improve self-esteem. For those looking to improve their quality of life, exercise is the answer.
Whether it's a jog around the neighborhood or taking a yoga class at the gym, an enjoyable workout is within reach for everyone. The right exercise doesn't have to be time-consuming or difficult, either. Regardless of the type of exercise, constant physical activity is one of the most important aspects of maintaining a healthy lifestyle. That's why AP9 SimplyYou offers these reminders on the benefits of exercising.
--Lose weight. By burning calories, exercise helps people achieve and maintain a healthy weight. Burning calories can also reduce body fat -- increasing energy levels and improving one's appearance and confidence. The combination of a healthy diet and regular exercise is often the best solution for those looking to shed a few pounds.
--Reduce cholesterol levels and the risk of developing diabetes. Exercise can reduce cholesterol in an overall effort to prevent heart attacks. Also, people who stay in good shape are far less likely to be diagnosed with diabetes, since frequent exercise can lower one's blood sugar level. According to the American Diabetes Association, just half an hour a day of moderate physical activity, coupled with a 5-10% decrease in body weight, resulted in a 58% reduction in diabetes in a study of people with pre-diabetes.
--Reduce pain and stress. Exercise stimulates the production of endorphins that produce feelings of well-being and help people relax. Whether it's a ten-mile bike ride or thirty minutes on the treadmill, releasing pent-up energy can be a great way to get over an argument with a friend or a frustrating day at the office.
--Strengthen bones and muscle. Frequent exercise, especially weightlifting, helps build up strength and tone the body. From an appearance standpoint alone, lifting weights and running can help give people the body that they desire. Physical activity can also prevent the bone-weakening disease osteoporosis.
In the constant grind that is life, going to the gym may seem impossible sometimes. But finding the time to exercise can help improve your confidence, happiness and quality of life, reports AP9 Simply You.
About AP9 SimplyYou
AP9 Simply You is a leading membership discount program offered by Adaptive Marketing LLC. Headquartered in Norwalk, Conn., Adaptive Marketing is a category leader in membership programs, bringing value direct to consumers through an array of benefits in healthcare, discounts, security, personal property and personals. Members may access their benefits at SimplyYou123.com. With broad online and offline distribution capabilities, Adaptive Marketing offers its corporate client partners effective tools to enhance market presence, strengthen customer affinity and generate additional value through programs such as AP9 SimplyYou.
###