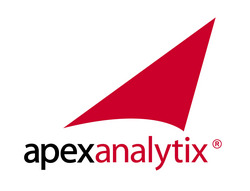 We owe our success to innovation and to a relentless focus on customer satisfaction.
Greensboro, NC (PRWEB) November 19, 2010
APEX Analytix, a leading provider of services and software for performance improvement, error prevention and fraud detection in accounts payable, today announced it was named "Best Product or Service Technology Company" in an annual awards competition sponsored by the North Carolina Technology Association (NCTA).
The prestigious NCTA 21 Awards program honors North Carolina companies and individuals who characterize excellence, innovation and leadership. APEX Analytix was among six firms honored in the Technology Industry category.
Headquartered in Greensboro, APEX Analytix is the world's fastest-growing provider of audit service and software to safeguard disbursements in the procure-to-pay process. The company revolutionized the recovery audit industry with FirstStrike® – a software application that continuously monitors for errors and detects fraud by reviewing accounts payable and other transactional data from all of a company's payment systems. To date FirstStrike® has prevented more than $2 billion in overpayments by APEX Analytix clients and produced summary reports that have led to validated cases of fraud, waste and abuse. The same software is used by APEX Analytix professionals who deliver recovery audit services.
Over the past three years – during the depths of a historic downturn in the global economy – APEX Analytix achieved a 170 percent growth in new business revenues and maintained a long-standing 98 percent client retention rate.
"We owe our success to innovation and to a relentless focus on customer satisfaction," says APEX Analytix CEO Steve Yurko. "Our clients are able to see quantifiable returns from our software and services and are making us part of their ongoing cost management and profit improvement plans."
APEX Analytix and other NCTA 21 winners were announced during a recent gala event attended by more than 850 business and technology leaders from across the state.
"This year's NCTA 21 Awards truly showcase the best technology and innovation that our state has to offer," said Brooks Raiford, president and chief executive officer of NCTA. "We couldn't be more pleased to congratulate APEX Analytix as a company that is leading North Carolina's technology industry, and we are proud to recognize them as a winner of the 'Best Product or Service Technology Company' award."
About NCTA
The North Carolina Technology Association's mission is "Making North Carolina #1 in Technology and Technology #1 in North Carolina." The organization does this through three main focus areas: executive engagement, public affairs, and enabling member transition to a technology-enabled workforce. For more information, visit our website at http://www.nctechnology.org.
About APEX Analytix
APEX Analytix helps companies unlock their potential by maximizing their profitability and safeguarding disbursements globally. Our innovative people, processes and technology have transformed the audit recovery industry – led by FirstStrike®, our family of standards-based software. For more than 15 years, FirstStrike® has been used by some the largest accounts payable teams on the planet to detect and prevent errors, halt fraud in its tracks and improve procure-to-pay performance. APEX Analytix also is the world's leading provider of recovery audit and risk analysis services for the manufacturing, retail, government, services, healthcare and insurance sectors, where we help firms recapture lost profits and protect trillions of disbursements each year. For more information, visit http://www.apexanalytix.com or call 800.284.4522.
###