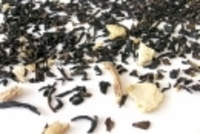 Recommended with a single flowing drop of honey, this liquid sensuousness consists of black tea, peaches, apricots, vanilla beans, citrus peels, ginger root and cloves...components deeply rooted in aphrodisiacal history...
Beverly Hills, CA (PRWEB) December 2, 2010
As the Russian novelist Ivan Turgenev from the late 1800's once wrote: "The genius of love and the genius of hunger, those twin brothers, are the two moving forces behind all living things", it's no wonder that the phenomenon of aphrodisiacs has survived over the ages.
There have been many aphrodisiac qualities in various types of foods ranging from herbs and spices, to fruits and vegetables, proteins, liquids and even potions. Aphrodisiac foods have been dated far back and embraced by physicians, poets, lovers, kings, mistresses, tribes and various cultures alike.
CaliforniaTeaHouse.com, an online loose leaf tea company, has concocted its own interpretation of a sensual tea: Apricot Chai. Recommended with a single flowing drop of honey, this liquid sensuousness consists of black tea, peaches, apricots, vanilla beans, citrus peels, ginger root and cloves, all components deeply rooted in aphrodisiacal history as outlined below.
Sensual Tea: Did you know that in some cultures tea is considered an aphrodisiac and is even drank during love making? Under the Ming dynasty in China, tea developed into a positive ritual symbolizing poetry and beauty: a cup of tea became the mirror of the soul. Japanese treat tea as the drink of immortality which had to be brewed in accordance with a very precise ceremonial, making each gesture and each mouthful both an initiation and a poetic ecstasy. When tea began to make its way west in the 17th century, a doctor of Corsican origin, Simon Paoli, tasted it and exclaimed that it should be banned because it was too 'intoxicating'.
Peach Preserves: The peach tree is regarded as magical and sensual. China and Japan still celebrate the blossoming of the peach tree as a sign and symbol of spring, the season of renewal and growth. Brides in those countries wear wreaths of peach blossom as a symbol of virginity and fertility. Poet William Fahey compared the ripe, cleft, pink fruits to the plunge of cleavage so worshipped in the paintings of the French Impressionist, Renoir. Packed with vitamins and primary nutrients, peaches offer potassium, phosphorus, iron, A and C-all key ingredients to enhance "performance".
Apricot Preserves: The word's origin comes from Arabic al barquoq meaning "early ripe". It was depicted in William Shakespeare's A Midsummer Night's Dream as an inducer of childbirth. Apricots were also used by the Australian Aborigines as an aphrodisiac. A special tea was prepared from the apricot stone, while the fruit was crushed and smeared over the erogenous regions as a pre-coital perfume. The seductively soft little fruit is packed with beauty-enhancing nutrients. A single serving of fresh apricots provides over 50% of your daily intake of beta-carotene - a potent antioxidant. They are also a good source of iron, a key nutrient for fertility in women.
Vanilla Bean: The scent and flavor of vanilla is believed to increase lust, which is why it is so common in perfumes. The German physicist Bezaar Zimmermann states in his book, On Experiences, published in 1762, that more than 342 men who had been declared impotent became model lovers after having drunk his vanilla-based decoctions. Even now, in certain regions of Central and South America, including Mexico, Argentina and Venezuela, men try to recapture their former vigor by soaking a few vanilla beans in a glass of tequila or another white alcohol for almost a month.
Gingerroot Slices: It is widely known that gingerroot stimulates the circulatory system. Avicenna, the great Arab physician from the 11th century prescribed honey mixed with ginger and a little pepper to stimulate sexuality. French legend Madame du Barry made a practice of serving ginger to her lovers. It was said to drive all, including her most famous lover, Louis XV, to a state of complete and utter submissiveness. A faculty of medicine founded in Salerno Italy by four legendary physicians produced a collection of precepts of hygiene and diet and spoke of ginger's aphrodisiac qualities:
"Within the stomach, loins, and in the lung
Praise of hot ginger rightly may be sung.
It quenches thirst, revives, excites the brain
And in old age awakes young love again."
Whole Cloves: Cloves are also a stimulating spice. Its sensual qualities date back as far as 1497 where a king in Kenya spoke: if you are going to the East for the merchandise it produces, if you want cinnamon, cloves and those various aromatics which encourage lust by feeding pleasure... you shall find them in such abundance that you need only content yourself here and go no farther."
Citrus peels: Citrus contains an uplifting fragrance with a stimulating scent. It was used only medicinally and in perfumery in classical times. Oranges have also been used as a lure by Christians to tempt the appetites of the lions in the Coliseum. Louis XIV proudly yet mistakenly used orangery to perfume his apartments.
Honey: Medicines in Egyptian times were based on honey including cures for sterility and impotence. Medieval seducers plied their partners with mead, a fermented concoction made from honey. Lovers on their "Honeymoon" drank mead and it was thought to "sweeten" the marriage. Galen (2nd century), physician to the Roman Emperor, Marcus Aurelius recommended honey taken at bedtime. Sie Shonagon (14th century), the Japanese authoress, lists honey as a favored aphrodisiac. Sheikh Nefzawi (16th century), author of the notorious sex manual, "The Perfumed Garden", recommended having pine kernels mixed with honey before love making.
Put all these alluring ingredients together and you not only have a passion potion, but a very delicious tea as well. Now you know the gateway to love is just a cup of tea away.
Reference: Maguelonne Toussaint-Samat, "History of Food"; 1994
# # #