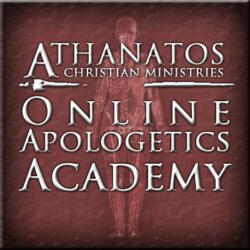 As we strive to meet the needs of the students who actually find us, our first vision of finding and equipping average people in the defense of their faith remains.
(PRWEB) September 15, 2012
Athanatos Christian Ministries announced significant changes to its online apologetics academy last Monday. The list of changes include the announcement of new directors of its literary apologetics certificate program, new pricing plans, an overhauled apologetics certificate, and year-round course offerings, as opposed to just three times a year.
Executive Director Anthony Horvath said in the statement, 'When this academy was launched in 2009, we had a particular idea about which people we wanted to serve. However, the people who actually reached us had entirely different needs and desires. For example, we thought that most of our participants would be people who needed an introduction to apologetic topics. It turned out that most people already had that introduction. Similarly, we did not expect to have as many authors and artists interested in our academy, or apologists who were interested in the arts. In response to this, we crafted our literary apologetics certificate. In response to the number of people who wanted deeper apologetic study, but do not need to be introduced to the material, we are announcing a revamped certificate of apologetics."
The revised apologetics certificate grounds the apologist in two thousand years of the defense of the faith by having them read books that have had a significant impact on Christian thought over the centuries. Examples include Paley's "Natural Theology" and Schweitzer's "The Quest of the Historical Jesus."
It has an emphasis on interaction between fellow apologists and builds into the program deliberate conversation with a 'hostile' audience–that is, a component of each course includes interaction with non-Christians.
The statement also points out that since their academy launched, many other programs have started up around the country. Their new apologetics certificate was designed to be something that would remain unique.
The arrival of Mario Alejandre and Ebony Murdoch as co-directors of the literary apologetics certificate program, represents a significant development, but Horvath says that the overall course structure for the certificate program will remain unchanged at least for the upcoming year.
The tuition increases range from $100 for a course that had previously been $60 or as much as $250 for modules within the apologetics certificate program. This is to more fairly compensate the facilitators of the courses, especially where there is expected to be a high degree of interaction.
The final big change is the offering of nearly all of their courses all year round, instead of just three times a year. The new pricing will make this possible, but so will the fact that for much of the year the courses are available on a 'self-guided' basis. The courses will still be facilitated, but only during certain months. Prospective students can decide for themselves whether or not they want interaction, and time their enrollment accordingly.
"As we strive to meet the needs of the students who actually find us, our first vision of finding and equipping average people in the defense of their faith remains. These changes do not change that wish. God willing, the spring of 2013 should see our attempt to meet those needs," Horvath says.