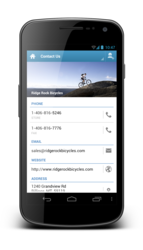 Push messaging has been our number one request since launching Andromo. AirBop gives Andromo developers the ability to send messages at any scale.
Winnipeg, MB (PRWEB) November 30, 2012
Push messaging is an effective way for app developers to monetize their apps by communicating directly with their app users. Until now, adding push notifications to Android apps has been an expensive, lengthy and complex process. With Andromo App Maker's integration of AirBop.com's new push messaging platform into its suite of features, app developers can now add push messaging to their Android apps with little effort and greatly reduced costs.
Andromo is an online service that app creators can use to design custom Android apps by simply pointing and clicking. With the inclusion of the new AirBop push notification feature, Andromo app developers can now send messages directly to their app users' smartphones or tablets. Push notifications can be used to send down messages, promotions and website links to devices instantly – or automatically queue them if the device is turned off.
Push messaging with AirBop can help developers monetize Android apps by letting users know about promotions, flash sales, new products, specials, affiliate offers, and more. The service is especially handy for alerting users to immediately available or time-sensitive offers. For instance, restaurants could let hungry app users know about a Friday night menu deal just before it begins.
"Push messaging has been our number one request since launching Andromo," says Andromo president Colin Adams. "AirBop gives Andromo developers the ability to send messages at any scale. It also handles all the registration details so app creators can spend energy on their apps, not on figuring out how to manage thousands of devices and messages."
AirBop push notifications can be used no matter the scale of their app audience. The service was built to be reliable and scalable, able to handle billions of Android devices. All plans include unlimited messages, with advanced plans including targeted messaging by language, country and even street address radius to reach specific users.
AirBop offers unlimited push messages at all plan levels with pricing ranges from $0.002 to $0.01 per managed user/device depending on included plan features. Andromo users can now enable the push messaging plan that best suits their needs with a few easy mouse clicks.
To start making Android apps with push messaging capabilities, subscribe to Andromo at http://www.andromo.com for $25/month or $129/year. More information on AirBop can be found at http://www.airbop.com along with a free account that includes 1000 managed devices and unlimited push messaging.
About Andromo App Maker for Android
Andromo is a trademark of Indigo Rose Software Corporation. Privately held, Indigo Rose Software has been creating award-winning software development tools since 1991. Our programming tools - AutoPlay Media Studio, Autorun MAX!, MSI Factory, Setup Factory, TrueUpdate, and Visual Patch - have been used to deliver software to hundreds of millions of systems worldwide.