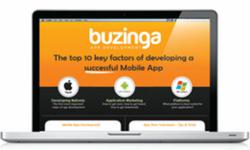 Basically, we're teaching people how they can earn a great income, or possibly even retire, with their own apps
Melbourne, Australia (PRWEB) April 21, 2013
Over the past week, the well-known Australian mobile app company Buzinga has unveiled their first set of video tutorials. The video sessions are focused on assisting new app developers with the best strategies to achieve success for their digital creations. App development expert and Buzinga Director Mr. Logan Merrick comments, "We're the first in our industry to open up and truly educate people about how to take their app idea and expand it into a business. The best thing is that creating mobile apps can be lots of fun and financially rewarding if the developer knows what steps to take, and that's what our videos explain."
From mobile banking to colourful games, people tap into their smart devices to do everything from completing routine tasks to filling in time while waiting in line. Because they're becoming an increasing and important part of everyday life, many app users have fresh ideas for new programs but lack the skills and resources to transform their visions into reality.
Taking the mystery out of app development is Melbourne based company Buzinga, who recently launched a series of video tutorials to assist those would-be app creators. The new videos, which are the first amongst a planned educational series to be released over the coming months, help aspiring designers turn their ideas into working, and possibly profitable, mobile applications called "apps."
The Buzinga director also says that until now, the industry has been "fairly tight-fisted on educating hopeful app developers in general." He goes on to say that his company created the tutorials in direct response to a growing demand for help, "Every day, people search for information about how they can be part of the 'App Development Boom' and get stumped at the few resources available."
With the videos revealed on the company's website and YouTube only this past week, Mr. Merrick explains their subject matter, "The videos we've launched have highly valuable content aimed at new developers. We specifically show them tips and strategies for developing their own apps. The videos touch on everything from marketing, monetisation, to strategies and much more."
The creative app company produced the educational videos to help both their clients as well as other people interested in developing apps. Mr. Merrick remarks, "We're here to help them get started and learn the things they need to know in order to achieve success in the app store."
What's more, Buzinga are making these videos available at no charge to the viewer, "We're literally facilitating the need for more app education as we speak. We've giving people the ability to pursue their dreams of becoming app entrepreneurs."
Combine the increasing demand for app development education and the fact Buzinga's tutorial videos are provided at no cost to the viewer, Mr. Merrick enthusiastically says the videos "have already had hundreds of keen viewers and they were only released a few days ago."
However, complimentary videos aren't the only form of assistance Buzinga provides to aspiring app creators, Mr. Merrick states that his company provides a "truck-load of literature that can be accessed from our website on how to take a good idea, turn it into an app, and then market it for profit."
Buzinga has taken their years of expertise and turned it into online videos to help budding developers create mobile apps. Mr. Merrick's mobile app production team is excited about helping others, "Basically, we're teaching people how they can earn a great income, or possibly even retire, with their own apps." To watch Buzinga's recently launched educational videos or for more information about developing mobile apps visit: http://www.buzinga.com.au
About Buzinga Apps
Based in Melbourne Australia, Buzinga Apps is a dedicated mobile app production house with over 50 years of combined experience working with businesses from around the world. Their team comprises of vibrant and creative people who are passionate about what they do.
Buzinga Apps pride themselves on producing a quality product on-time and on budget, every time. To learn more about Buzinga, visit their About Us page.