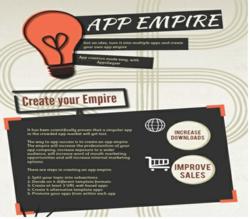 I couldn't believe that once I had all the apps in the app store, my download and usage ratio jumped through the roof.
Alexandria, VA (PRWEB) May 29, 2013
AppsGeyser frequently encourages app makers to create an app empire to improve their rankings in the Android marketplace. The team at AppsGeyser believes in the system that app empires provide app success so much so that they have produced a guide to help app makers succeed in this quest.
It has been proven that app empires, that is an app maker that has created and published in excess of seven apps, has more than tenfold success rate than single apps that have been placed in the overcrowded Android app market. There are many theories behind this, including that app audiences will believe more in the app maker if they see they have other apps available and therefore are perceived as being more professional. Another theory is that internal app advertising increases downloads of sibling apps.
To create an app empire with an Android app builder platform, it is important to split your subject into subsections from which you can create different apps. AppsGeyser suggests using different template styles to suit different subsections of your topic. It is also perceived that the app maker will appeal to a larger audience by using different mediums.
"I was advised to make an app for my recruitment company, but I didn't want to fill it was too much information", explained Georgina Smith, " The app was only getting 5 downloads a week, nothing near what I wanted, so I created more apps, one for our blog, one for our company video presentations, a newsline app and three other URL linked apps. I couldn't believe that once I had all the apps in the app store, my download and usage ratio jumped through the roof. My original app has since reached 50 downloads a day in the last week."
"AppsGeyser understands that to succeed in the app world, the app maker need patience and to try many different apps before they find the one that succeeds,"AppsGeyser Co-founder Vasily Salomatov, explained, "To help app makers we produced the app empire guide."
About AppsGeyser
AppsGeyser, launched in February 2011, is a fast growing Android app creation platform. AppsGeyser enables users to create apps for Android devices from any web content in under five minutes. AppsGeyser has seen more than 418,000 apps created on its platform. There have been more than 288 million downloads of its apps.