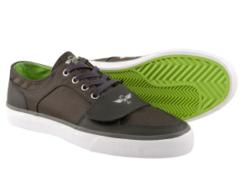 Los Angeles, CA (PRWEB) March 15, 2013
Unlike other trendy clothing retailers, ApparelZoo.com doesn't try to dictate what's in style; instead, they look to the consumers wants in selecting their product offerings. Consumers want Creative Recreation's spunky line of fashionable, yet sophisticated shoes and that is what they will get. ApparelZoo.com is now offering Creative Recreation footwear to their customers at prices that can't be beat and LAD Solutions is making a tremendous effort to spread the word.
Worn by many popular celebrities like Jamie Foxx, Zac Efron, Taylor Lautner, and Kanye West, Creative Recreation is the original lifestyle footwear brand. Driven by creativity, comfort, and impressive looks, the makers of these shoes took all the great attributes of a sneaker and a dress shoe and mixed them all into one. Reminiscent of classic Southern California style, the Creative Recreation product line allows consumers to make an impressive statement about who they are and where they are going; and with over 35 styles to choose from at ApparelZoo.com, one can surely find something that will help to express their personality.
Whether one prefers high tops or low tops, casual or funky, sophisticated or sporty, ApparelZoo.com has the pair that will be most fitting. Creative Recreation footwear is also offered in a variety of different colors; and thanks to ApparelZoo.com's dedication to value, these shoes are also very reasonably priced. Ranging anywhere from $50 to $100 dollars, just about anyone on any sized budget can afford to have a pair of these high quality shoes delivered right to their door. Speaking of shipping, ApparelZoo.com is also proud to provide free shipping on all U.S. bound orders over $50. These offerings are simply unbeatable, no matter how one looks at it.
About the Company: Apparel Zoo began in 2011 in the trendy Los Angeles fashion district; and since then, they have been focused on making sure their online store offers the very best styles from both well-known and up-in-coming designers. They recognize and support many different types of urban trends in their effort; however, as a Southern California based company, they also take great pride in the promotion of stylish products produced by designers in and around the Los Angeles area. Unlike other trendy online clothing shops, ApparelZoo.com is dedicated to offering their consumers impressively low prices not found anywhere else on the web. With goals of becoming one of today's most suggested online retailers, ApparelZoo.com is teaming with LAD Solutions to spread the word that they not only offer the hottest brands at the hottest prices but also that they put their customer's wants first, above all else.