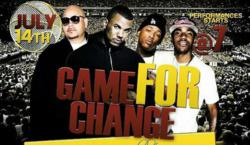 Los Angeles, CA (PRWEB) July 14, 2012
Apparel Zoo has been selected to be a promotional partner in the Game for Change first annual "Mega Game," being held at the Galen Center on the University of Southern California campus on July 14, 2012. This event is being put on to raise money for the Los Angeles Police Department Southeast Division Police Activities League (PAL). This group works closely with the youth of the community and provides mentorship programs to support youth with anti-bullying programs, league fees and uniform fees for sport camps, a Christmas Ronald McDonald charity event to create an emergency fund to cover the costs of food, clothing, uniforms for the Cadet program, and educational field trips.
The role of Apparel Zoo as a promotional partner for the Game for Change is being managed by LAD solutions, a well-respected Los Angeles based Internet marketing company. Apparel Zoo will provide stickers and lighters in LAPD Game for Change sponsorship celebrity gift bags. These will reach the hands of influential celebrities attending the event, including Chris Brown and The GAME.
At the event, celebrities will be featured throughout to help draw a large audience and raise funds. Game for Change will have six games hosted by the Drew League Foundation, and will include NBA players such as Dorell Wright, Trevor Ariza, Metta World Peace, Craig Smith, Brandon Jennings and Amir Johnson. Other celebrities who will perform after the game at a concert to benefit the PAL charity are rappers Eminem, Ludacris, Busta Rhymes, Fat Joe, Trey Songz, FiNaTTicZ, R&B Hip Hop group New Boyz, and Grammy award winning singer Chrisette Michelle. There will also be a special appearance from Nick Cannon, the host of the popular television show, "America's Got Talent." Each of these influential celebrities will receive a gift bag that includes the promotional materials from Apparel Zoo.
Internet marketing experts LAD Solutions, based in Los Angeles, Calif., have assisted Apparel Zoo in their promotions for this and other events. By delivering promotional items directly into the hands of people who can influence others, Apparel Zoo and LAD Solutions are confident that they will not only benefit a good cause but also help promote their brand. The items donated will reach the hands of 200 VIP and celebrity attendees, and will help to say thank you to those people who will be helping to make Game for Change a success in raising funds for a local charity.
About Apparel Zoo: Apparel Zoo was founded in 2011 in the fashionable downtown district of Los Angeles. Since then, they have worked to deliver fashionable hip hop and streetwear clothing to customers with the latest trends at affordable prices. Apparel Zoo operates online to sell their clothing items via the Internet. Their unique approach recognizes that trends from different parts of the country are different, and so does not push specific trends onto their customers. Instead, this approach allows customers to choose styles that match their personal tastes, which is different than most clothing retailers. To view their clothing for men and women, interested patrons should view their website.