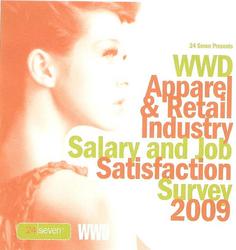 The irony behind well meaning, budget-conscious downsizing is that the current business environment requires more work to turn a profit, not less. Downsizing cannot be about existing staff taking on more and more responsibilities. That's a fast ticket to high burnout and uninspired work from employees
New York, NY (PRWEB) December 16, 2008
Who are the top moneymakers in fashion? The big execs usually take home the lion's share in most fashion houses, and, not surprisingly, they have the highest satisfaction ratings in a poll of 2,600 fashion workers from public and private apparel companies. On the flip side, job satisfaction rates are seriously lagging among retail, e-commerce and store-level employees. Yet, respondents also recognized the importance of these frontline workers with sales topping the "most valued" list, according to the annual Equation Research survey commissioned by 24 Seven and Women's Wear Daily. Free downloads of the survey results are available at http://www.24seveninc.com/2009salarysurvey.
How can managers address low satisfaction and stability among their most valued employees? What are their perceptions of job stability in the current market? Worker responses offer telling insights for fashion employers that need to hold onto skilled talent in a volatile job environment. The 57-question survey highlights opinions from executive level management, design & technical development, production & product development, planning & merchandising, sales & marketing, operations and IT, retail and e-commerce workers as well as compensation and job satisfaction data.
Value vs. Satisfaction
The survey says job satisfaction among sales, marketing and retail employees in the fashion world is largely determined by rank and salary, and they are eager to change jobs for both. Retail, e-commerce and store level positions displayed the lowest levels of satisfaction (53 percent) with executive level management most content in their current positions (70 percent). Sales and marketing staff trailed retail, e-commerce and store level employees in their quests for new jobs. Sixty-nine percent of sales and marketing execs said they look for new jobs at least once a month, while 75 percent of retail, e-commerce and store level employees do the same. Of the functions perceived to be valued most by the apparel industry today, sales tops the list at 67 percent, and has the highest percentage (59 percent) of respondents who predict it will be valued more in five years.
Easing the Pressure Valve
Even if a company has right-sized its staff to reflect the market, are they doing everything they can to hold onto top talent? "The irony behind well meaning, budget-conscious downsizing is that the current business environment requires more work to turn a profit, not less. Downsizing cannot be about existing staff taking on more and more responsibilities. That's a fast ticket to high burnout and uninspired work from employees," says Celeste Gudas, CEO of 24 Seven. But she says managers can be more proactive in the benefits arena and fold freelancers into the mix to help ease the strain without taking a bite out a company's bottom line.
Highlights from the survey include:

Who earns what? Executive level management tops the list of course with median level salaries ranging from $123,000 to $275,000, with top earners being divided on the east and west coasts. Fashion directors and senior designers registered median level salaries that range from $100,000 to $480,000. Design and Technical development workers median salaries average from $36,000 to $84,500.
Who has the highest job satisfaction? Executive level managers (70 percent) and Production and Product Development workers (62 percent) registered the highest levels of job satisfaction while respondents in Retail, E-Commerce & Store Level (53 percent), and Sales & Marketing (54 percent) had the lowest levels of satisfaction.
What are the biggest job move considerations?: Salary was the number one consideration for a job move, followed by better job/position, better growth potential and better quality of a life. The data illustrates that skilled talent changes jobs every three years in order to move up the ranks in their career in both salary and duties.
Who is searching for their next job? The low job satisfaction among retail, e-commerce and store-level workers is mirrored in the frequency in which they look for jobs (75 percent search monthly). Significant numbers of respondents across other groups are also actively looking for new jobs: Sales & Marketing people (69 percent) and Design and Technical Development (68 percent), Planning & Merchandising (66 percent).
Other Results of Note
A majority of respondents were female (76 percent) with 71 percent between the ages of 25 and 44. Sixty-nine percent work at a corporate headquarters while slightly more than one-third work for employers with 1000 or more employees. Fifty-seven percent work for a global company. Although they have high levels of dissatisfaction across the various disciplines, Design & Technical Development people profess the greatest love of fashion (77 percent).
While a passion for fashion keeps many creative talent in the apparel industry, the survey shows a majority are looking to make a job move. Gudas says planning ahead and knowing the latest on what people are getting versus what they're wanting gives managers the upper hand in keeping top talent happier, longer.
For a complete copy of the 24 Seven-Women's Wear Daily 2009 Salary Survey, go to http://www.24seveninc.com/2009salarysurvey.
About 24 Seven
Founded in 2000, 24 Seven is an eight-year market leader in the fashion, marketing, advertising, creative, beauty, retail, home furnishings and entertainment sectors. 24 Seven has established a reputation for placing exceptional creative talent, from entry level all the way to executive level. Additionally, 24 Seven was certified as a Women's Business Enterprise by the WBENC (Women's Business Enterprise National Council) and was honored to receive the prestigious Ernst & Young 2007 Entrepreneur of the Year Award in the Business Services category in the Metropolitan New York area. For more information about 24 Seven, visit http://www.24seveninc.com.
About WWD
WWD is the essential global resource for the Fashion, Retail and Beauty community - the first place that industry leaders turn for authoritative content and insider perspective. Top brand and retail executives, media influencers, financial experts and others affiliated with the worlds of retail and style know that WWD provides the information they need in print, online and in market to make business decisions. To learn more about WWD, please visit http://www.wwd.com.
# # #