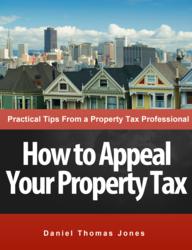 Don't show your hand.
Atlanta, GA (PRWEB) March 19, 2013
Daniel Thomas Jones, Managing Director of Fair Assessments, an Atlanta-based property tax management company, has just completed an easy-to-understand book that gives a multitude of tips about how to effectively prepare for a property tax appeal. With tax assessments about to go out soon in many areas, "How to Appeal Your Property Tax" couldn't have come at a better time. It is available now at Amazon.com.
In Part One of the three-part book, Jones explains the basics of the first level of the appeals process. The initial step, he says, is to analyze the taxable value to determine whether a property tax appeal is reasonable. If an appeal should be filed, the book goes over the steps needed to obtain the data necessary to support a lower value, how to prepare the data for presentation, and whether all of the data should be supplied to the tax assessor of if some should be held back.
In Part Two, Jones puts the appeals process in perspective by reviewing the approaches that the tax assessors use to place a value on a property and he provides more information about the second and third levels of appeal -- if the appeal needs to be taken that far. In Part Three, he explains what property tax consultants can and can't do to help with a property tax appeal.
It's a process Jones knows inside and out. He spent eight years working for two county assessment departments -- in Fulton County, GA and Prince William County, VA -- and for the last eight years has appealed taxable values for commercial property owners all over the East Coast.
The book is a quick read and is written in an easy-to follow style that applies to both homeowners and commercial property owners. Anyone who is considering a property tax appeal will find it well worth investing a short amount of time to study Jones's many helpful hints to plot a course of action.