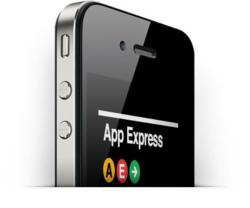 Working with App Express accelerates our move into mobile and allows us to offer our advertisers an affordable option for engaging mobile customers.
The Woodlands, Texas (PRWEB) March 11, 2013
User Friendly Media today announced a partner agreement with award-winning community directory publisher Local Book Publishing, to resell App Express, the affordable mobile app builder that enables small and medium-sized businesses to engage customers and grow their business with powerful mobile apps. App Express is designed to solve common business challenges, like customer communications, scheduling, invoicing, marketing and promotions.
Through this agreement, Local Book Publishing will offer the App Express platform to its advertisers in Maryland, Delaware, North Carolina, Utah and Arizona, helping them tap into the growing opportunity for SMBs to build customer loyalty with local mobile customers.
"We are excited about partnering with App Express and now have the ability to offer mobile apps to our advertisers," said Kevin Neuberger, vice president of operations, Local Book Publishing. "Working with App Express accelerates our move into mobile and allows us to offer our advertisers an affordable option for engaging mobile customers."
"We are delighted to welcome Local Book Publishing to the App Express partner network," said Mary Beth Brendza, vice president, business development, App Express/User Friendly Media. "Our mobile apps are a tremendous tool for extending the reach of advertisers to customers who are increasingly searching via mobile devices for the types of local information found in Local Book directories."
The App Express platform is available through a network of white-label providers and resellers like Local Book Publishing. App Express positions its partners for success with a dedicated account manager, priority customer support, and a range of sales, operations, and marketing resources.
App Express mobile app features include:

Appointment scheduling – display availability and schedule appointments
Payments – invoice and receive payments on the go
Messaging – connect with customers in real time
Sharing – share app with friends and followers on Facebook and Twitter. Engage users to "follow" your business on Twitter and "like" your business on Facebook
Deals – engage customers with loyalty and couponing system
Information – provide essential contact information and menu of services
One-page, mobile-optimized website – the most important "on-the-go" contact information to promote app discovery by directing the user to download the app
For iOS and Android platforms
Local Book Publishing (http://www.thelocalbook.com)
Since 1999, Local Book Publishing has been helping small businesses grow and succeed by producing quality telephone directories in southwest Utah, Arizona, Maryland, Delaware, and North Carolina. The Local Book connects consumers with businesses in their community and is committed to publishing the most accurate, complete and easiest to use directories in the country.
About User Friendly Media (http://www.userfriendlymedia.com)
User Friendly Media's mission is to connect buyers and sellers by putting local businesses at consumers' fingertips. The User Friendly Media portfolio consists of 36 directories and 30 community websites across eight states. The User-Friendly Phone Book is currently the second largest independent phone book publisher in the U.S. The company's mobile solutions include App Express, a mobile app builder and mobile website platform for SMBs. User Friendly Media's GoLocal247.com, one of the fastest growing local business directory website platforms in the country, is filled with enhanced local business profiles, online coupons and everything local citizens need to discover what is happening in their communities. It is a portfolio company of VS&A Communications Partners III, LP, the private equity affiliate of media industry merchant bank Veronis Suhler Stevenson.