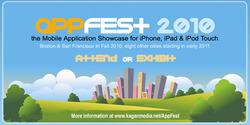 AppFest celebrates the mobile information revolution with a forum for developers and users to meet, learn from each other, and enhance their enjoyment and productivity in life.
Sunnyvale, CA (PRWEB) June 23, 2010
Today, Kagan Media Net announced it is launching AppFest, a live outdoor show with 100 developers and their Apps for iOS, the wildly successful mobile application platform for iPhone, iPod Touch, and now iPad.
The first show is scheduled for Saturday, September 25, 2010, in Waltham, MA, with a second show lined up for Saturday, October 23, in Sunnyvale, CA. Each show will feature a unique set of exhibitions, entertainment and ideas. Developers and users can learn more at http://www.AppFest.net
The purpose of AppFest is to provide a live forum for developers to meet with users in order to improve their products, and understand how their customers use their apps. It will also serve as an opportunity to promote their apps, find new talent, meet potential partners, and learn about new technologies.
iPhone, iPad, and iPod Touch enthusiasts will enjoy seeing the latest apps, some of which have been developed locally. They will have an opportunity to see new apps before they buy, know what future releases will bring, and get to know the developers of their favorite apps. There will also be autograph signing, live entertainment, prizes and much more.
AppFest will feature pavilions for gaming, entertainment, business, music, arts, education, travel, health & lifestyle, as well as developer support for the corporate community, live entertainment, prizes and much more. Eventually, the show will grow to ten cities in the U.S. and overseas.
While Apple has its Worldwide Developers Conference each year, the information only flows one way. IDG has the Macworld Expo in San Francisco, but that is a huge show with hardware dominating the landscape. AppFest in contrast, is a more intimate, traveling show that focuses on content.
According to show manager David Kagan:
"AppFest is a big celebration of the mobile information revolution. Our outdoor AppFest is a forum for developers and users to meet, learn from each other, and enhance their enjoyment and productivity in life. Because Apple made these products so beautiful and easy to use, the world is a better place, so come and have a good time at AppFest."
In the fast-growing and competitive marketplace for mobile devices, Apple is far in the lead, with more than 30 million devices sold that run iOS, as well as over 200,000 apps available on iTunes. While other platforms such as Google's Android, Blackberry and Palm are pumping new devices, online storefronts, and programming tools, Apple has a growing legion of users, including over 35,000 developers worldwide, and the hottest devices on the planet, such as iPhone 4 and iPad.
Potential exhibitors and sponsors can get more information by calling 1-508-333-4153 or by going to http://www.kaganmedia.net/AppFest. Tickets will go on sale at the beginning of August, and are expected to be limited to 1,000 for the premiere on the east coast, which will be held in Waltham MA.
About KaganMedia
Kagan Media Net of Wayland, MA, publishes iPhone apps such as Health Yourself, and is the founder of AppFest. David Kagan has been into Apple products and natural health for more than 20 years. Learn more at http://www.kaganmedia.net
# # #