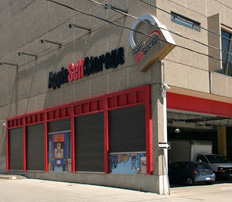 The additional space, comprised mainly of storage units that are larger and better able to meet specialized demand, will be accessible on the main level
New York, New York (PRWEB) March 20, 2013
With construction well underway at its downtown Toronto storage facility, Apple Self Storage will soon be able to offer clients 22,000SF of customizable space. The expansion comes in addition to the existing 95,000SF of storage space at the facility, and is scheduled to be completed in April 2013.
Users of self storage in Toronto will have more choice in how they store their goods – a change that accounts for the unique needs and items of each individual. The additional space, comprised mainly of storage units that are larger and better able to meet specialized demand, will be accessible on the main level. Customers can then easily add to or take from their storage unit without having to use an elevator.
Many residents living in and around the downtown core, while enjoying a more fast-paced lifestyle, are forced to adjust to a downsized living arrangement after arriving from outside the city. Self storage lets them hold on to excess items, whether temporarily until they can find roomier accommodations or, not uncommonly, as a long-term solution.
Opened in 2003, Apple Self Storage on Adelaide St W is one of the few storage facilities serving downtown Toronto, providing convenient access for nearby condo residents and business owners. The facility has remained open during construction – which has not restricted access to current customers – and is on pace to meet its April target for completing the expansion.
About Apple Self Storage
Apple Self Storage is a provider of secure, convenient and affordable self storage across Ontario, New Brunswick and Nova Scotia. The Company's downtown Toronto storage facility is strategically located to improve the quality of life for nearby residents and business owners, for whom space typically comes at a premium. With an emphasis on service in each of its 15 locations, Apple Self Storage strives to help customers find the best solution to their storage needs. The Company has also invested heavily in its online presence with features such as state-of-the-art 3D modeling – designed to give customers an accurate idea of the storage capabilities of each unit – and an intuitive reservation process. Learn more about Apple Self Storage in Toronto.